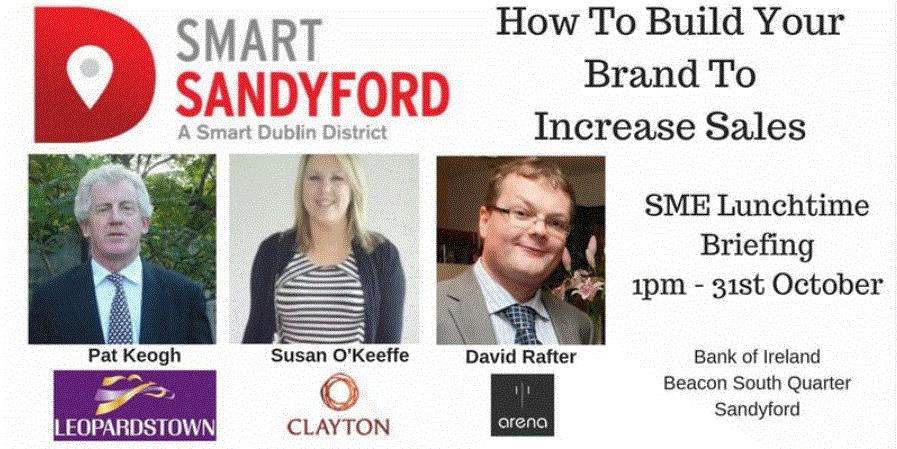 Build your Brand
When: Wednesday, October 31, 2018
---
Knowing how to communicate what your company does in a way that cuts through the noise and motivates listeners to become customers is key to growth for small businesses.
The one hour session on growing your business through a strong brand will start at 1pm. MC'd by Smart Sandyford's 'Skills & Innovation Champion', Eoin Costello, and a panel of experts who have direct experience of building the brand of their business in the Sandyford District including -
Pat Keogh (Linkedin) - Chief Executive, Leopardstown Racecourse
Susan O'Keeffe (Linkedin) - Sales and Marketing Manager, Clayton Hotel Leopardstown
David Rafter (Linkedin) - Sales Director, Arena Kitchens Dublin
Our briefing is free to attend and will be of particular interest to:
• Small and micro business owner/managers from all business sectors.
• Professionals working for SMEs in the District.
• Startup businesses in the locality.
The event is free and open to all businesses in Sandyford Business District, it is hosted in the Bank of Ireland Branch, Beacon South Quarter. However spaces are limited therefore early registration is recommended. There will also be an opportunity for Q&A with the speakers and to network after the presentations.
Please click here to register: https://bit.ly/2O3UGNU