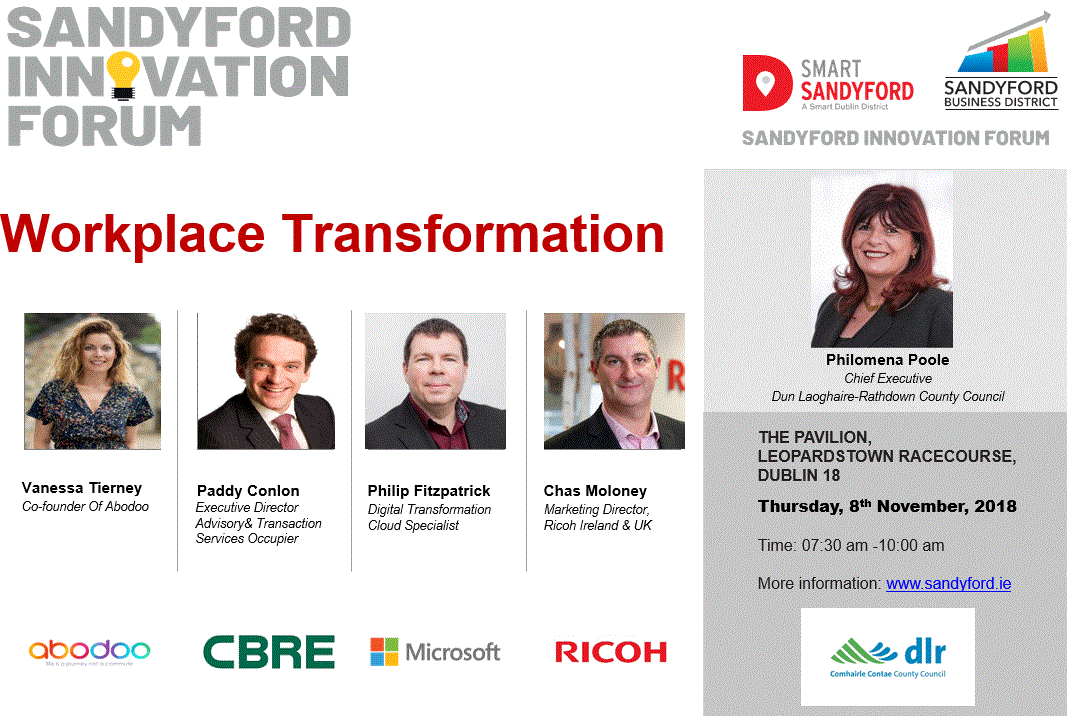 Sandyford Innovation Forum 2018
When: Thursday, November 8, 2018
---
Sandyford Business Improvement District is hosting its third Sandyford Innovation Forum on Thursday 8th November 2018 at 7.30am in the Pavilion, Leopardstown Racecourse.

REGISTER HERE: Registration Link
Every year the business community in Sandyford get together to 'deep dive' into a theme where change and innovation affect all businesses. In 2016 the theme was the Fourth Industrial Revolution and in 2017 it was The Future of Work. This year the theme is Workplace Transformation. For quite a while the conventional 'office' as a single occupied secluded work space has been in decline. New disruptive technologies influence how we work and more and more where and when we work. Our workplaces and work styles are changing accordingly.
It is also a consequence of changes in culture and dare we say it – generational change – i.e. the way young people want to work. This is important for businesses who are talent-dependent to succeed. They have to adapt to the value system of a younger work force who are much more adept in the use of new technologies.
Cultural change is also not just confined to the interests of young people. Employees of all ages want a better work-life balance that impact on aspects such as flexible work times and childcare facilities close to work. It also relates to the quality of life aspirations in their work environment (e.g. air quality, leisure and dining options, green public spaces, walkable neighbourhood) and limiting the time spent travelling to and from their workplaces.
So how are workplaces changing? What innovations are happening in the design and management of our work environments? The Sandyford Business District with its diversity in size of businesses and sectors has always been at the cusp of change. What changes in the workplace will we see in Sandyford?
Our host and facilitator for this event will be Adrian Weckler.
Our Speakers on the day will be:
Philomena Poole: Philomena is the Chief Executive of Dun Laoghaire-Rathdown County Council.
Phillip Fitzpatrick: Philip is a Digital Transformation Cloud Specialist who works with organisations to digitally transform their business using Microsoft 365. Based out of Microsoft Ireland in Dublin, Phillip specialises in helping organisation to empower their employees by enabling the modern workplace while at the same time ensuring that they manage risk.
Paddy Conlon: Paddy is an Executive Director in CBRE specialising in Office Leasing and Acquisitions. He has been with CBRE for 17 years and has an in-depth knowledge of the latest trends both from the Property development community and the occupiers who are looking to shape the City of the Future.
Vanessa Tierney: Vanessa is the co-founder of Abodoo, an exciting global and intuitive platform that is connecting companies with remote working professionals. She champions remote and flexible working in order to attract and retain the best talent and lives and breathes "smart working" with all her teams now for over 7 years.
Chas Moloney: Chas is the Marketing Director of Ricoh Ireland & UK. Ricoh is a global technology company, with a focus on emerging technologies enabling businesses to operate with a real freedom in the workplace. Under his stewardship Ricoh's sales and marketing are helping their customers to adapt in a transformed workplace.
We look forward to seeing you there!