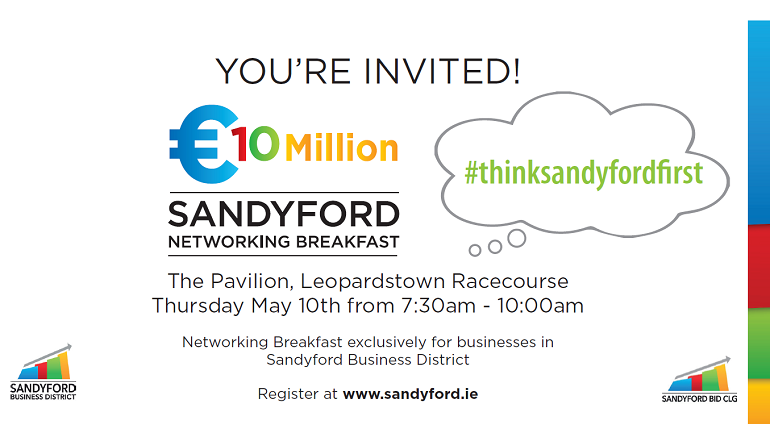 Sandyford €10 Million Networking Breakfast
When: Thursday, May 10, 2018
---
Sandyford €10 Million Networking Breakfast – The Pavilion, Leopardstown
Join us at this unique networking breakfast and enjoy the opportunity to meet with new suppliers and clients within Sandyford Business District and create valuable new local business connections. It's all about #ThinkSandyfordFirst.

With 1,000 businesses in Sandyford we are asking you to make a concerted effort to find new suppliers and new clients here in the District and keep your business local. If every business can repatriate €10,000 worth of business within Sandyford Business District this will generate €10M into the local economy.
This event will provide an excellent opportunity for businesses to promote their services, increase their awareness of potential suppliers and network with other businesses in the district. A new directory of the district will be launched at this event to encourage everyone involved in the area to 'spend locally' - #ThinkSandyfordFirst.
Please check your business details on www.sandyford.ie and advise us urgently if you wish to update your entry.
We welcome you to register to join in our €10M movement. The only stipulation to qualify is that you must be a registered business within the Sandyford Business District (Stillorgan Business Park, Sandyford Business Park, Central Park, South County Business Park and Leopardstown Racecourse).
Given the demand we are expecting, we cordially ask you to register no more than 2 representatives from your business - preferably 1 from sales/marketing and 1 from procurement.
Please register to attend here using your business email and company address.
Please keep your diary free to enjoy the full morning with us - we know it will be worth it!
Upcoming Events