Sandyford Business District marks handover of the position of CEO from Conor Battigan to Ger Corbett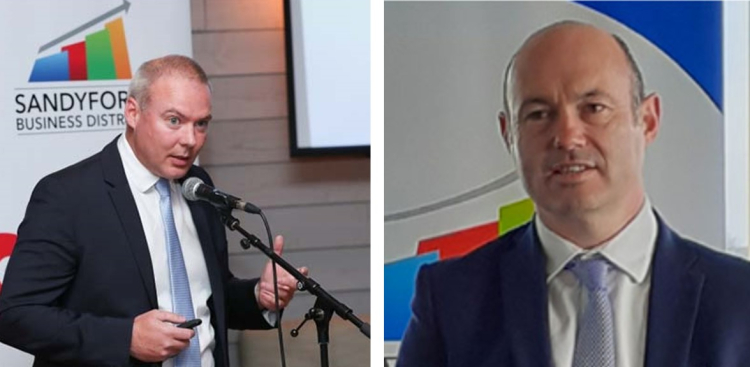 Sandyford Business District (SBD) is proud to mark the handover of the position of Chief Executive Officer of Ireland's largest business district from Conor Battigan to Ger Corbett.
Conor Battigan, who has long-standing connections to Sandyford, served as CEO of SBD for two years, leaving after playing a crucial role as the organisation successfully secured a mandate for a second five-year term in a plebiscite of the membership in September of last year. Conor is a founder and owner of businesses in the residential rental services sector and is now focusing on these ventures.
Ger Corbett joined Sandyford Business District as Commercial Manager in June 2021 and since then he has been leading the efforts of the association to support member businesses to survive pandemic difficulties and navigate the changing economic environment. With a keen eye on helping the district through the decarbonisation journey, Ger has also been at the heart of the development of Project Green, SBD's ambitious sustainability agenda.
We also express our sincere thanks and gratitude to Sheila Moore, currently Deputy Chair on the board of SBD, who acted as Interim CEO between Conor's departure and Ger's formal commencement in the role.
Greg Brennan, Chair of the Board of Sandyford Business District, remarked on the occasion of the handover: "I warmly thank Conor Battigan for his immense service to SBD during his tenure as Chief Executive Officer. He played a key role in our plebiscite campaign and left the District on a secure footing and an upward trajectory.
I wish him every success as he focuses on his business ventures in the residential rental services sector, an area in which he has considerable expertise.
I would like to also use this opportunity to again highlight Ger's experience, abilities, and his commitment to delivering results which are proving very valuable to ensure our next 5-year plan for SBD is successful. He is a very valuable part of the SBD team, and we are working closely with him to ensure Sandyford Business District is the world class location it deserves to be."
The new CEO of Sandyford Business District, Ger Corbett said: "I am extremely proud to have started this role at an exciting stage in the development of Sandyford Business District. Our vision for Sandyford is of a sustainable, progressive, modern and accessible business district that attracts investment and talent from across the country and around the world, while providing high quality amenities and services to the local community. We will continue to work closely with all stakeholders in the district to implement our strategy.
I feel immensely privileged to have taken over as CEO of an organisation that is in such a strong position and look forward to the future with confidence. I am enormously grateful to Conor for his great part in making that a reality and I wish him all the best as he applies the business acumen and leadership skills he exhibited at SBD to his new endeavours."
The former CEO of Sandyford Business District, Conor Battigan remarked: "It has been a privilege to be Chief Executive Officer of SBD given my own connections with Sandyford, the energy and expertise of the board and executive team as well as the vibrancy and innovation of the membership.
I am happy that as I move on from the role, SBD is now well-established in the minds of all crucial stakeholders and that we received such a strong backing from members in the plebiscite last year.
I remain firm in the belief that SBD is key to the prosperity of the Sandyford business community and having worked closely with him, I am confident that I have left the district in good hands with Ger as the new CEO. I wish him all the best as he continues in the role. I have had the fantastic opportunity to develop highly enriching professional relationships with the board, executive team and membership of SBD during my time as CEO and I look forward to fostering these connections in the new stage
of my career."