Public Service Platform for Circular, Innovative and Resilient Municipalities through PCP
CircularPSP brings together 8 procurer cities, representing 45 million citizens, to invest €5.64 million in R&D. Funded by the EU*, the end goal is to support business processes and workflows to plan, procure, and implement innovative CE solutions across Europe. Sandyford Business District is pleased to announce its role as one of the procurers in this project.
The common challenge to be solved by suppliers is to design, develop and test a digital public service platform enabling and empowering municipalities to transition the city to circularity with the help of taxonomies, AI and NLP. The funding will be offered as part of a multi-stage pre-commercial procurement (PCP) procedure, and we are looking forward to announcing the tender's release learn more here. Join our Newsletter.
* This project has received funding from the European Union's Horizon Europe Pre- Commercial Procurement Programme, under Grant Agreement n°101092208.


Meet the partners
The CircularPSP Buyers Group brings together experienced public procurers and relevant other partners from five EU Member States, the United Kingdom and Turkey. All procuring partners are fully committed to large-scale procurement of technologies to achieve green circular transition in cities and their local markets, based on the outcomes of CircularPSP. The countries seeking the platform are Germany, Turkey, Belgium, Ireland, Slovenia, UK, Portugal, Sweden and Finland.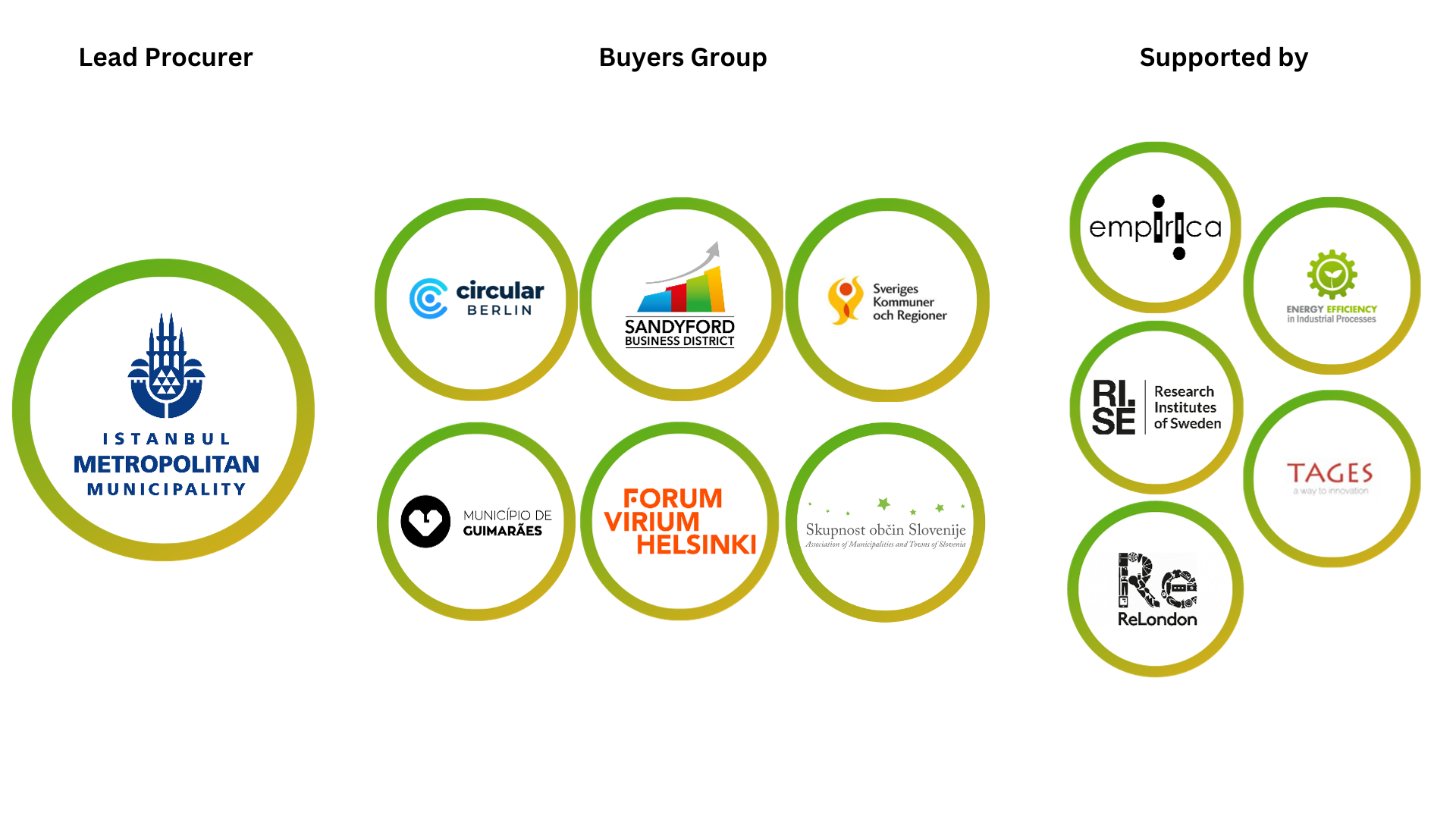 Explore Collaborative Opportunities with the Matchmaking Platform

Sandyford Business District would like to extend an invitation to companies within the district and across Ireland to join CircularPSP Matchmaking Platform. Here you can unlock partnership opportunities and create a supplier consortium to ensure fulfilment of tender requirements. The Matchmaking Platform allows you to discover partners, enhance your organisation innovative capabilities and elevate your visibility among peers. Once your company details are submitted, your profile becomes accessible on the Matchmaking Platform, facilitating the identification of valuable partnerships. Engage with companies or allow them to find your potential consortium opportunities within the CircularPSP Tender right here.


Join the Follower Network
CircularPSP invites cities, regions, government organizations, public procurers, and projects to join our Follower Network.
Joining as a Follower involves no commitment, and it comes at absolutely no cost to you. As a Follower, you will have the opportunity to:
Receive insights into CircularPSP solutions making circular economy accessible for your staff.
Access to testing of solutions during Phase III.
Insights into procurement clauses for AI (compliant with AI act).
Access to suppliers and be first in line for the uptake of successful solutions.
---


Inaugural in-person Consortium Meeting
In March 2023, our CEO Ger Corbett from Sandyford Business District travelled to Bonn, Germany to take part in the inaugural in-person CircularPSP consortium meeting.
Over two days, alongside our respected partners from Istanbul, Berlin, Helsinki, Sandyford, Guimarães, City Network Sweden, City Network Slovenia, and London, worked together to advance in our shared mission of promoting and facilitating circular economy in European cities. This event, organised by Empirica, RISE and EEIP, facilitated productive discussions on challenges and needs. Strategic plans were made related to the upcoming Open Market Consultations, as well as, development of personas and focus group utilisation. EEIP presented the Communication strategy while broader project developments needs were addressed by the consortium.
This meeting reinforced Sandyford Business District commitment to making a meaningful impact in the circular economy landscape.