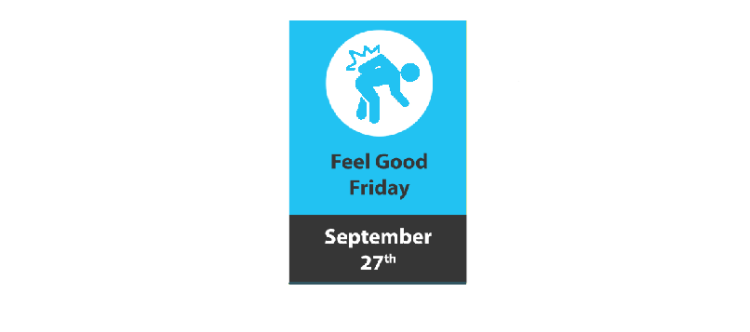 Feel Good Friday
When: Friday, September 27, 2019
---
Today's Event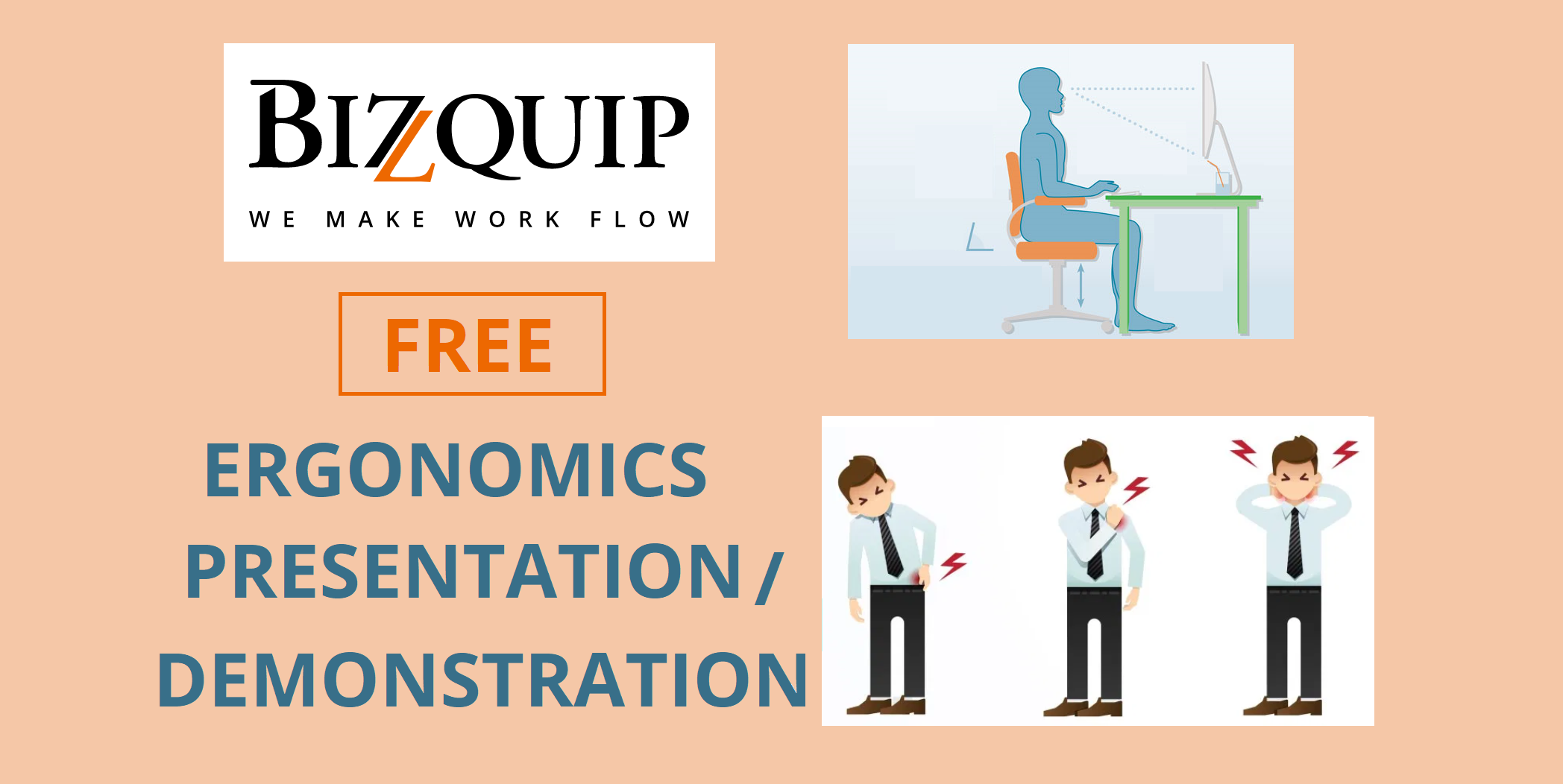 Today's Articles

Ergonomics Presentation
In order to view the Ergonomics Presentation presented by Michelle on Friday 27th September as part of Wellness Week, please click here
Michelle Leyden is a trained Ergonomics Assessor who holds a certification in Office Ergonomics.
With a team of over 60 industry specialists, Bizquip's skills and expertise encompass all aspects of fulfilling their clients needs.
Bizquip Ltd | 01 217 8000

www.bizquip.ie | info@bizquip.ie

7-8 Burton Hall Road, Sandyford Business Park, Dublin 18
Be More Dog
"A dog is the only thing on earth that loves you more than you love yourself." – Josh Billings

It is said that dogs are a man's best friend, the logic behind this sentiment is very clear to most dog owners: Dogs are loyal, devoted, loving, dependable, unjudgmental, happy to join in and take part with whatever you want to do and are generally great at giving your spirits a lift when you are down. Who wouldn't want a best friend with those qualities?

Dog ownership is without doubt one of the greatest pleasures in life, but did you know that owning a dog can help with your emotional health and well as providing companionship and fun. Taking care of your dog, will in turn encourage you take better care of yourself. Dogs love routine, which in turn helps give your day purpose and structure. Dogs encourage you to wake, play, eat, sleep and exercise at regular times which have been proven to be important factors in helping manage conditions such as anxiety or depression.

Dogs love AND need to get out for a walk and while this can help you with your physical wellbeing, the social aspect of owning a dog cannot be overlooked. Meeting and chatting with other dog owners can be a great way to help with social anxiety, after all who does not love talking about their wonderful dog! Research over the last few years has shown that being outdoors, having a walk on the beach or in the woods, or even just a trip to your local park boosts your mood and helps combat the effects of stress and can aid your overall mental health.

Watch your dog when they wake up from a sleep, do they jump straight up and rush out the door? Not at all, first they will take a long stretch front legs first and them back legs, realigning and straightening out those muscles. How many of us would benefit from doing the same before we get going for the day?

There is so much we can learn from dogs, such as dogs live in the moment and enjoy what they have. Have you ever seen a dog chase a falling leaf? Or play with an empty plastic bottle? It's the little things in life that makes them happy. When they go for a walk they are actively enjoying the walk, taking in the environment, watching what is going on around them & inhaling every smell, while a lot of the time we at the other end of the lead are checking our emails or talking on the phone. Taking the time to play with your dog it is an amazing mood booster. You can be as goofy as you like, and your dog will only love you all the more for that.

It will not come as a surprise that dogs overall have a very positive effect on people so how can we be more dog?
Live in the moment

, be

present and aware of your environment. You don't have to do 3 things at once, concentrate on one thing, or enjoy one experience fully before moving into the next.
Routine regular diet and exercise are vital for your dog's wellbeing and you would be neglectful to ignore this aspect of your dog's life. But also look at incorporating a similar routine for yourself, how many people will rush out the door in the morning and grab a cup of coffee on the way to work? Maybe skip lunch as they are too busy to stop what they are doing? Not go for a walk themselves as there is just no time? Be as kind to yourself and your basic needs as you are to your dogs.
Be open to new experience dogs love exploring and getting out in nature, socialising with others dogs and humans. Take a leaf from your dogs book, head somewhere new for a walk and be open to having a chat with someone you have not met before.

Positive Dog Training is a progressive, force free dog training centre which also provides compassionate welfare friendly dog grooming and a fun cage free doggie daycare. To find out more, visit their website below.

Positive Dog Training | 01 901 3018

www.positivedogtrainingdublin.com | info@positivedogtraining.ie

Unit T2, Birch Avenue, Stillorgan Business Park, Sandyford, Dublin 18

4 Benefits to seeing a Chiropractor during pregnancy

Written by Dr Ros Drake

Chiropractic is a safe and natural treatment method of restoring normal function to the joints of the body, primarily those of the spine, and correcting any misalignments particularly of the pelvis. This in turn will allow the central nervous system (CNS) to work at its optimal due to the close proximity of the spinal joints to the nerves of the CNS as the CNS controls the nerves that help you move your body. The CNS is connected to the autonomic nervous system (ANS) which is the nervous system for the organs and therefore not only can chiropractic help with musculoskeletal issues, it can also help to increase the performance of and reduce the stress on your organs. The typical treatment techniques used are gentle, low force adjustments made to the joints whether done by the hands or accessory tools.

Regular chiropractic care is an integral part of the pre and postnatal stages of pregnancy. Prior to pregnancy, it helps to achieve a viable pregnancy and then, during the 3 trimesters, keeps mum feeling good during the physical and emotional changes that occur.

The joy of preparing for a new baby is diminished for many women by persistent back pain during pregnancy, causing much stress and frustration due to the lack of relief available. Many pain-relieving drugs have unwanted side effects that may endanger both mother and child. For this reason, it is important to know as much as possible about why you may be experiencing back pain as well as effective alternatives to taking medication.

Many problems suffered during pregnancy may be directly related to the health of your spine. These may include backache, headaches, aching legs, sciatica, breathlessness, nausea and fatigue. 96% of women have been shown to experience back pain during pregnancy.

Here are the 4 main benefits to seeing a Chiropractor during pregnancy

1) Increased maternal wellbeing

Pregnancy causes the biggest change to the adult body predominantly that of the accentuation of all the spinal curves and the pushing forward of the centre of gravity. With that comes a host of musculoskeletal symptoms so commonly associated with pregnancy such as

Headaches
Neck pain
Chest pain
Shortness of breath
Heartburn
Low back pain
Pelvic girdle pain
Symphysis pubis dysfunction
Sciatica
Weakening of the pelvic floor

Chiropractic care has been shown to help reduce the symptoms of those ailments allowing the mum to enjoy her pregnancy more, remain mobile and therefore be in a much better physical and emotional state for the birth and the post partum period.
2) Increased intra-uterine space
If there is pelvic misalignment, not only can this cause low back pain, sacro-iliac pain, sciatica, pelvic girdle pain and symphysis pubis dysfunction, it also will affect the length and tension of the associated pelvic and abdominal muscles and ligaments and can impact the amount of space baby can freely move in.
When the pelvis is misaligned instead of the pelvic outlet (the hole baby comes out of) being a nice smooth circle it can become more of a figure 8 shape. This could then impact the ability for the baby to go head down. A breech presentation is when a baby remains in the head up position after week 32 and remaining in the breech position not only can have a negative impact on the baby's hips (there is an increased association of hip dysplasia with breech presentations) but is also has a major impact on the style of birth you can have.
In some countries the protocol for breech presentation is a c-section with possibly being offered the external cephalic version (ECV) procedure prior to that. Chiropractic treatment, which includes the Webster technique has been shown to have a huge success rate of treating breech presentations. At my clinic in Sandyford the Webster technique is utilised along with other chiropractic treatment techniques when a patient presents with a breech baby and I have a success rate of over 70%.
3) Easier and faster labour
Receiving chiropractic care during pregnancy has been shown to reduce labour time by 24% on the first baby and up to 39% in subsequent babies. It has also been shown to reduce the use of pain killers by 50%. This is because any misalignments have been removed creating a more unobstructed pathway for the baby to journey through, the mum has hopefully been able to enjoy a pain free and mobile pregnancy, the fact that chiropractic treatments have been shown to increase the release of endorphins (your happy hormones) and reduce the release of norepinephrin (your stress hormones) and correct biomechanics of the spine and pelvis during birth allows your baby to apply even pressure onto your cervix with the head, which enables your body to dilate effectively, resulting in shorter labour time.
Chiropractic in the post natal phase is as important as during pregnancy whether you've had a natural vaginal birth, an intervention led birth or a caesarean birth. If you have had chiropractic care during the pregnancy then hopefully it will aid you to have a natural birth and you're recovery will be quicker as there will be less musculoskeletal trauma and less emotional trauma. However, motherhood brings with it different musculoskeletal stresses such as feeding your baby, carrying your baby, the sleep deprivation and the continued release of the hormone relaxin if you are breastfeeding. Therefore post natal chiropractic treatment sessions are recommended to help you on your post natal recovery.
All in all, the benefits of chiropractic adjustments are lengthy and should not need to be avoided due to pregnancy. In my experience expectant Mums need it more than ever. Special pillows and after care should be provided by an experienced therapist to support their comfort and reduce any anxiety If you are considering going to a chiropractor please make sure that they are a registered member of the registered Chiropractic Association in your country as they will be fully insured and completing annual CPD points and don't forget to check your private medical insurance as most include chiropractic care as part of their plans.
Dr. Ros Drake is a Chiropractor specialising in the treatment of the expectant mother based in Sandyford, D18. She studied at the UK chiropractic college, the AECC, qualifying in 2000 after a 5 year full time course with a Bachelor of Science and a Master of Science degree. She has treated over 165 expectant mums in the last 4 years with a 71% success rate supporting breech presentation. She receives referrals from private and public midwives, doulas, GentleBirth instructors, pregnancy yoga teachers and other birth workers. She has contributed to Natural Parenting Ireland, Irish Parent Magazine, the Irish Independent Newspaper and is featured on Mummypages.ie. More recently, she was voted Pregnancy Chiropractor of the year 2019 Republic of Ireland by Global Health and Pharma and was shortlisted for Specialist Maternity Service of the Year award by MaMa Conference 2019. Ros has enjoyed Cuidiu membership for over 6 years and therefore any Cuidiu full member can avail of 10% off all appointments. Ros is mum to two daughters Esme 6yo and Kelby 4yo, wife to David and human mum to the
5 yo family pet dog Laragh!
Drake Chiropractic | 01 293 7803

ros@drakechiropractic.ie | www.drakechiropractic.ie

Blackthorn Avenue, Sandyford Business Park, Dublin 18