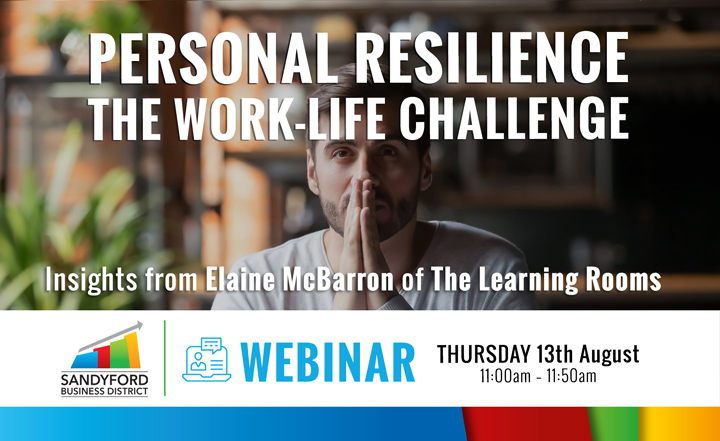 Personal Resilience - The Work-Life Challenge Webinar
When: Thursday, August 13, 2020
---
Sandyford Business District invites you to an interactive Webinar on Thursday 13th August at 11:00am – 11:50am.

Have you replaced the time spent in your daily commute with time at the computer?

Has video conferencing taken over your life?
Is managing your work and home life increasingly more challenging?
In this webinar, Sandyford based The Learning Rooms will share strategies to help you respond to the challenges of working from home. Taking a lead from recent research, neurobiology and psychology, Elaine McBarron will explain what is actually going on in our minds and the behaviours and habits that can cause stress and anxiety. After the webinar, we hope you will be clearer on what you can do to set some healthy boundaries that respect and honour your work and home life.
Join us on August 13th to hear a fresh perspective and practical suggestions from Elaine McBarron of The Learning Rooms.
Register for the webinar here.
We understand that we all need to evolve and develop a road map for the times in which we live, times of unprecedented challenge. This webinar addresses key questions and explores the issues that many workers are now facing.