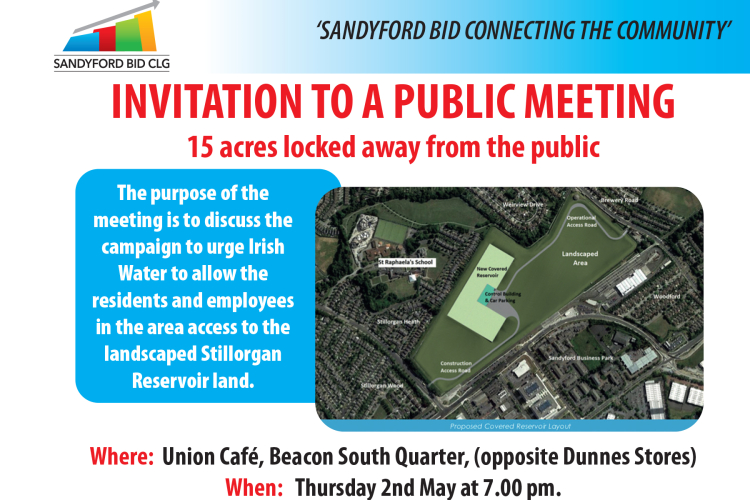 Public Meeting Thursday 2nd May 2019
When: Thursday, May 2, 2019
---
Public Meeting
The purpose of the meeting is to discuss the campaign to urge Irish Water to allow the residents and employees in the area access to the landscaped Stillorgan Reservoir land. As you may be aware, Irish Water is currently upgrading the Stillorgan reservoir, one of the last remaining open reservoirs of its size in Europe . The project involves draining the Gray reservoir and the construction of a new covered reservoir and control building. Once the new covered reservoir is operational, the Upper and Lower reservoirs will be decommissioned and a landscaping masterplan will be completed.
As it currently stands Irish Water plan to landscape 15 acres of the site and keep this area locked away from the public. Sandyford Business District is seeking to gain access to this landscaped site and for it to be deemed a public open space for use by residents and employees in the area for important health, social, environmental and economic benefits.
If you believe there is a lack of public amenities in the area, please show your support by attending this meeting.
We are inviting local public representatives to attend to outline our concerns to them so that they can join our campaign.
Join Us On Thursday 2nd May at Union Cafe, Beacon South Quarter (opposite Dunnes) @ 7pm