Sandyford Business District and GBTech Breakfast Networking Event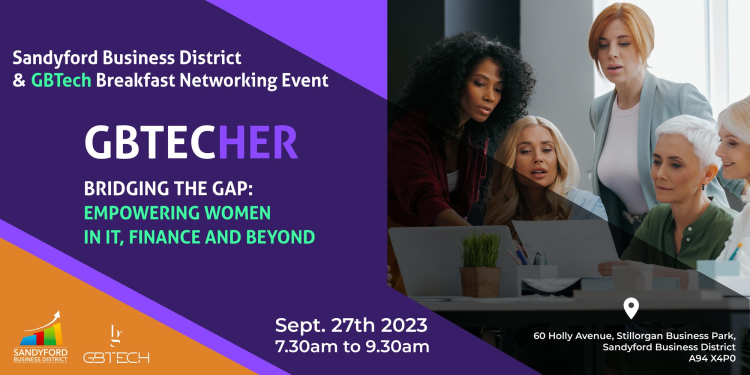 ---
Sandyford Business District and GBTECH Breakfast Networking Event: September 27th
Register now for your FREE tickets for our next Breakfast Networking Event.
Sandyford Business District and GBTech invite you to "Bridging the Gap: Empowering Women in IT, Finance and Beyond"
We are delighted to be joined by Cathriona Hallahan, Non-Exec Director/Coach/Business Transformation Consultant and former Managing Director for Microsoft in Ireland who will be our MC on the day.
Our panel of speakers includes…
Marisa Ronan, PhD, Leadership Development and Professional Skills PM, Microsoft Ireland
Louise Porter, CMO Lightyear
Renata Covisi Pereira, Head of Product and Operations and Co-Founder of Bowsy, Software
Mike Murnane, SVP, Cyber & Intelligence at Mastercard
Date: September 27th, 2023
Time: 7.30am to 9.30am
Location: 60 Holly Avenue, Stillorgan Business Park, Sandyford Business District A94 X4P0
Agenda
7.30am Registration: Tea / Coffee and pastries
8am - 9am Panel discussion followed by Q&A
9am - 9.30am opportunity to network
Book your FREE tickets here: https://tinyurl.com/28kyp9f2
More about our MC and Speakers….
Cathriona Hallahan, Non-Exec Director/Coach/Business Transformation Consultant
Cathriona recently retired after 35 years as Managing Director for Microsoft in Ireland, Cathriona had been responsible for driving Microsoft's commercial business on the island
of Ireland. Cathriona represented the Company in Ireland on all strategic policy, corporate affairs and communications issues including overseeing a number of community, education and innovation programmes.
Cathriona sits on a number of Boards including Keelings, Dalata Hotel Group PLC, Beats Medical, FoodCloud, Tap Retail and the Public Interest Body for PWC. Cathriona also sits on UCD Advisory Board, Trinity Business School Advisory Board, and is an industry advisor for ADAPT Centre Trinity. She is a member of the International Women's Forum, Institute of Directors, Institute of Accounting Technicians (IATI) and is a fellow of ACCA, and a fellow of the IMI.
Cathriona is a qualified Executive Coach and is passionate about Change Management and Leadership Development.
Mike Murnane, Senior Vice President, Mastercard Cyber & Intelligence
Mike heads up the Cyber, Crypto & Security Innovation software engineering programs, based in Mastercard's Technology Hub in Leopardstown, Dublin. His teams build global
systems for safety and security solutions in cyber, crypto, artificial intelligence, digital assets and fraud analytics. Mike is the executive sponsor of Mastercard's Women's Leadership Network (WLN) in Ireland and has previously worked on Junior Achievement Ireland, Girls In Technology and Coder Dojo programs.
Marisa Ronan PhD, Leadership Development and Professional Skills PM, Microsoft Ireland
Marisa is responsible for global Leadership Development and Professional Skills in Cloud Operations + Innovation (CO+I), Microsoft. She has a background in the Humanities and after completing her doctorate was Senior Research Fellow in Trinity's Centre for Environmental Humanities.
She spent a decade in academia before entering the tech sector. She was recently awarded a scholarship from Virginia Tech's 'Institute for Leadership in Technology' where she will join their inaugural one-year residency program.
She is a keen advocate for the value that humanities perspectives can play in supporting human-centred technological innovation.
Louise Porter CMO, Lightyear.
Louise is the Chief Marketing Officer of Lightyear, one of the fastest growing fintech companies in Europe that provides a Purchasing and AP automation solution for mid-large SMEs and enterprises. Louise is responsible for developing and executing the global marketing strategy, overseeing the brand identity and reputation, and driving the growth and retention of customers.
Having worked in the marketing industry across various countries including Australia, Canada, UK and Ireland, Louise has gained extensive experience in multiple industries with a focus on fintech for the past 7 years.
Louise holds a Masters of Business from Ulster University and firmly believes that leveraging data, analytics, and automation are critical elements for optimising performance and enhancing customer experience.
In her spare time, Louise enjoys travelling and walking her dogs on the beach.
Renata Covisi Periera
Renata joined Bowsy.ie three years ago as a software developer Intern and after graduating from university in Ireland where she studied computer science, joined the company as a Co-Founder. Renata now holds the position of Head of Product and Operations, working on the growth and improvement of the Bowsy platform thats help Irish university students get work experience and to connect with local businesses.
Previous to joining Bowsy, Renata had over 10 years' experience in various roles in the Education sector and obtained her original degree in Economics before continuing her education to complete a Masters degree in Sustainability. After moving to Ireland to expand her career horizons and opportunities, Renata transitioned into the technology area and found a new passion in the start-up sector with Bowsy that combined her passion of both education and technology.
With Bowsy, she has achieved: Irish Tech Startup of the year at the National Startup Awards, shortlisted in theThe Irish Times Innovation Award, Winner in the Chambers Ireland Diversity and Inclusion Award 2022, Winner in the Dn Laoghaire-Rathdown Chamber Best Use of Digital Award, and more.
Renata is enthusiastic about learning new technologies, project, and product management, and helping people grow."