Sandyford Business District: Culture Night 2023 - Art Exhibition and Taste of Sandyford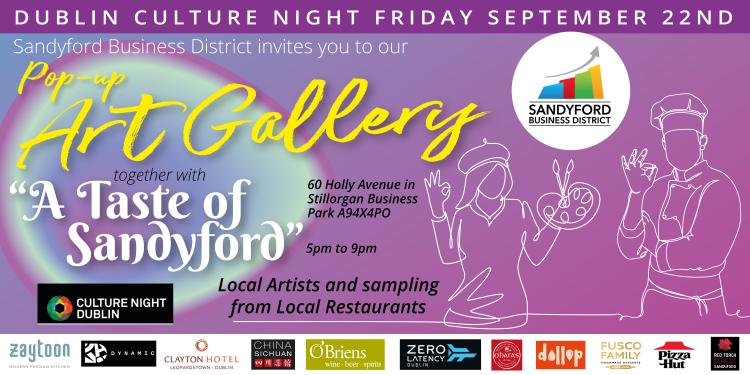 ---
Dublin Culture Night, run by the Arts Council takes place on Friday September 22nd and this will be our 2nd year hosting an event on the night.

Following on from the success of last year's Art Exhibition we will host another pop-up Art Gallery together with "A Taste of Sandyford" from 5pm to 9pm in 60 Holly Avenue in Stillorgan Business Park.
We will be giving local artists a platform to showcase and promote their work across a variety of mediums.
You are invited to attend this FREE event to view the artwork and sample food from some of the District's restaurants and suppliers.
Zero Latency will be bringing 'art to life' with an immersive art experience and the opportunity to paint in a 3D space using virtual reality technology.

Get your free ticket here https://tinyurl.com/4z52zf46
Introducing our fantastic local artists
AIDAN WALSH
I am a local artist, painting in oils. My artwork has always been somewhat influenced by Ireland's mythology and landscape. My recent paintings have focused on those windswept trees, often hawthorn, that we see in the landscape, usually in the west of Ireland.
https://aidanart.wixsite.com/aidanart
Instagram Aidanwalshart
Facebook Aidan Walsh : Art gallery.
ADRIENNE SYMES
Adrienne Symes was born in Dublin and is a graduate of NCAD and Trinity College, Dublin. She worked in advertising and was head of the Art Department of the King's Hospital, Dublin.
She is a member and former board member of the Graphic Studio Dublin and was also hon. treasurer of the Contemporary Irish Art Society for ten years. Her studio was in Broadstone Studios, Dublin for about thirty years.
She works in a variety of mediums including painting, drawing and sculpture. She has painted designs for Sybil Connolly which were reproduced on china, linen, notelets and various household items for the American market.
She has also created table-mat designs featuring the Georgian doors of Dublin for Whitecliff Industries. Among her many achievement was a residency in Tyrone Guthrie Centre, Annamakerrig, and she won 1st prize in the RDS National Craft Competition (1973).
She has exhibited widely in both solo and group exhibitions in Ireland, France, Italy, Bulgaria and has been an invited artist in various exhibitions.
Laois County Council invited artist for ten years and the Laois Arthouse.
Her most recent exhibitions have been in The City Assemble House, Dublin, The Phoenix Park Visitors' Centre and at the Burning the Big House exhibition at Maynooth University and the Irish Architectural Archive, Dublin 2022.
In 2023 she was an invited artist with Leinster Printmaking Studio for their 25th Anniversary Exhibition which is at present touring places throughout Ireland.
Next month she will be exhibiting with the Graphic Studio in aid of the Simon Community.
Collections: Office of Public Works; Plan International, London; St James' Hospital, Dublin; Blackrock Clinic, Dublin; Frank Buckley Loan Collection, INTO, Dublin; Hunt Museum, Limerick; Institute of Technology, Carlow; Phillipe de Patoul International, Maynooth University.
Private collections in Ireland, Europe, Asia, Africa and the USA.
Some work can be viewed at www.adriennesymes.com
AINE NEVILLE
Dublin-born Áine
Neville, an alumnus of Berchem Art Academie in Antwerp, is an abstract artist who moves fluidly between acrylics and digital mediums. Through her radiant "Friendship Series," Áine captures the essence of female camaraderie with a vivacious palette of pinks, yellows, and oranges, aiming to infuse joy in every viewer.
https://instagram.com/aine_neville?igshid=OGQ5ZDc2ODk2ZA==
EIMEAR MACKEN
Sandyford based artist Eimear Macken uses a broad range of media to create her nature, pattern and form inspired work. Since childhood she has always enjoyed crafting and
creating art pieces. Since 2018 she has been passionate on pursuing this career by gaining skills in painting with acrylic and watercolours, print, sculpture and ceramics to name but a few.
After achieving 7 distinctions in "Fine Art and Design" level 5 in last year, she is continuing to study level 6, and she will then continue this journey to achieve her degree in Fine Art and teaching.
Eimear Macken has exhibited in three exhibitions in the past year.
Instagram @craftsbyeimear
FRANCES CRAVEN
I'm a late starter. I did art to intercert (that's what we called it way back then). I would have loved to go to art college but it wasn't a runner in the 70s for me. I didn't do any art for over thirty years. I joined a water colour class in Kilternan in 2007/2008. Since then getting lost in watercolours for even a couple of hours weekly is so therapeutic. There's so
much to learn still…..
HELENA CAMPBELL
I work in the field of data management and have been painting in oils for the past 9 years.
I enjoy painting familiar landscapes or items from a different scale or perspective. I like to deconstruct the familiar to find the abstract in the everyday.
LAURA STEERMAN
Artist Laura Steerman is a solicitor turned creator and founder of www.QuaintBabyArt.com and www.LauraSteermanArt.com Laura creates bespoke colourful artworks accessible to all by celebrating diversity,
family journeys and imagination through commissioned paintings, murals and provides innovative art workshops for adults and children.
Instagram:
https://www.instagram.com/laurasteermanart
Facebook https://www.facebook.com/LauraSteermanArt/
MARGARET FARRELL.
I'm a contemporary Irish landscape and seascape artist based in Dublin.
I had a career in education for 35 years before retiring a few years ago to follow my passion of being a fulltime artist. I now have the space and time to be creative and have
my own studio at home.
Most of my art is inspired by how I feel about Nature. I love the outdoors and am a keen hillwalker, beach stroller and occasional sailor. I have always been drawn to wild, remote landscapes and rugged coastlines, especially our wild Atlantic coast. My art is an emotional response to the natural landscape and an attempt to capture the feelings and
memories it evokes.
Over the years, I have explored a variety of media- oil, watercolour and silk painting and weaving before discovering acrylic. I love expressing myself in bold vibrant colours. Using acrylic as a medium allows me to combine some of the most interesting characteristics of both watercolour and oil. I like to work with bold, intuitive strokes so
that my work has an energy and spontaneity to it. I'm happy that my art is often described as "joyous and uplifting".
I have had several solo exhibitions. My two recent ones, "Light and Colour" and "The Beauty of Trees" were very well received. I am in many private collections and regularly exhibit in Malahide, at People's Art on Stephen's Green, Schoolhouse for Art Enniskerry and many other group shows.
MARIA GINNITY
Maria attended Dun Laoghaire School of Art in the mid-70s when the college was situated in an old bakery at the edge of the town, but the realities of raising a family resulted in a 35-year detour.
Following her recent retirement from the Department of Enterprise, she is back to painting with a passion and recently graduated from RHA School with distinction.
Maria has exhibited in a number of group exhibitions since 2021, in the RHA Annual exhibition 2023, and in the Dublin Painting and Sketching Annual exhibition 2023.
Her first solo exhibition, Perspectives, was hosted by ArtNetdlr @ Walter's Dun Laoghaire in July 2023.
Maria is a member of VAI, ArtNetdlr and Ranelagh Arts; and is the Student Representative on the RHA School Advisory Board.
Focused primarily on figurative art, Maria's paintings evoke a sense of breath, a moment captured in time, a feeling of movement within the stillness. Her tightly cropped images and unusual perspectives invite curiosity – she draws the viewer in to observe closely, and then step away to something more each time they look. The overall result is rhythmic, bold and intriguing.
Instagram: mariaginnityart
eMail: maria.ginnity@gmail.com
MARIAN DUFF
I am Marian Duff, a Dublin based Artist. I work in oils, ceramics and mixed media. I stepped into the Art world a few years ago. I remember going to my first drawing class and practicing "ellipses", I walked home that day on air. I felt so lucky to have the opportunity to begin learning and exploring the world of Art. I am inspired by nature, the wonderful
colours, design, pattern and texture of the smallest plants and animals. Autumn is an abundant season especially with all the seed heads. Seed heads are architectural, intricate and give me wonderful inspiration.
Fish are another subject I like to paint. I chose the Mackerel, plentiful in Irish seas, they have a very interesting pattern and beautiful iridescent colours.
In Ceramics I like exploring and creating Porcelain flowers and stylised Hares. I am curious about everything in nature and will continue to be inspired by the Wonderful World around us.
NAOMI PEPPARD
Naomi Peppard was born in Dublin, Ireland in 1970. A self-taught,versatile artist, she began painting at an early age. Naomi's work was greatly inspired by her late father Louis Peppard Architect and artist. Naomi first started to explore and develop her interest in landscape painting while on family holidays in Connemara. After leaving school she travelled extensively worldwide including Africa, the Americas, the Far East and the Pacific. Although drawn by the cultures and colours of foreign lands, Naomi returned to
Ireland to paint local scenes.
In recent years, Naomi has also developed a strong connection with Italy, inspiring her from its back streets to its rural countryside. Naomi has exhibited in both, solo and combined shows around Ireland. Her paintings have been exhibited in many art galleries such as Dalkey arts and the Guinness Gallery. Some of her paintings have also been auctioned at Adam's Fine Arts. Naomi has had a significant number of commissions paintings from both public and private bodies such as the Office of Public Works at Dublin Castle, the Carlton Hotels and Dublin's Shelbourne Hotel.
In recent years, Naomi has also been working on different projects as an illustrator for the development of children's books to benefit charities such as Temple Street Foundation, the Cottage Home and Blackrock Hospice. She was also commissioned to create artist impressions for several architectural building projects in the USA and in the Caribbean. Naomi regularly teaches art groups of beginners and advanced students, in her classic style of soft watercolours and detailed oils. TEACHING EXPERIENCE 2019 - to date Weekly classes Oils and Acrylics, Dublin Dun Laoghaire Education and Training Boar
PAT ERRITY
Stillorgan based Artist, Pat only took up painting since his retirement in 2013. Joining the local Kilmacud Art Group he has experimented with many mediums and admits oils are now his favourite although he also enjoys working in acrylics and pastels.
Though relatively new to the art world Pat is quite an accomplished artist and his works cover a broad range of subject matter including landscapes, portraiture and still life and more recently some fascinating surreal compositions.
Pat exhibits with Kilmacud Art Group and at the People's Art on St Stephen's Green.
PAYAL VIJAY
I am Payal Vijay from Gujarat, India. I have been living in Ireland for more than 5 years. I am a textile and surface pattern designer by profession and painter and mural artist by interest. I find art therapeutic which brings me peace and happiness.
My keen interest in interiors and home decor led me to the world of art. I see beauty in simplicity, and this reflects in the art and designs I create. I enjoy creating something beautiful out of simple and usual things. The journey of transforming the ordinary into something beautiful and artistic excites me.
I take my inspiration from historical monuments, nature, surroundings, day to day experiences and different Indian art forms like Warli, Madhubani, Gond, mandala etc. I like to combine Irish natural beauty with Indian art forms to create something unique that represents the richness of both countries.
I like exploring different mediums and surfaces. I paint using watercolour, acrylic and oil paints on paper, canvas as well as unconventional surfaces like ceramic, wood, leather, fabric, walls etc.
https://www.instagram.com/enhancebypayal/
RITA LEE
Originally from Killarney but moved to Dublin in 1981. My background is finance, but I have always been interested in arts and crafts. I left the financial world in 2019 and since then I have been a student in the College of Further Education, Dundrum. I completed both QQI Level 5 (Arts, Ceramics and Design) and QQ1 Level 6 (Advanced Ceramics and Design).
While I had attended evening classes for art when I worked, attending the college full time has given me more confidence in my ability to paint in addition to opening up new crafts to me, including printing, ceramics, batik and life drawing to mention a few. I recently exhibited some of my ceramic pieces at the Ceramics Ireland Exhibition, which was held in the Printworks at Dublin Castle and was delighted that one of my pieces sold. I have also been successful with sales of paintings and ceramics over the years.
I mainly work in oils on canvas. All of the paintings I will be exhibiting will be oil on canvas from photos that I have taken in Ireland.
Instagram 9962,rita
ROBERT HARVEY
Bricklayer turned barber turned artist. I was always interested in art and creativity. When my son was born 10 years ago I created my first piece for him. The response I got was phenomenal. This inspired me to go full time into art. I create work inspired by nature and the world, particularly galaxies, stars, the sun and the moon.
I have exhibited all around Ireland and regularly display my work 'on the railings' in Malahide.
I create visual art through the mediums of acrylic, oils and spray paints. I like to create large pieces that are visual spectacles. I use colour and vibrancy in my creations.
Instagram @robertharveyartist.
ROXANA WEGNER
I am an international visual artist living in Dublin 18, originally from Argentina. For as long as I can remember, art, creativity, and bright energetic colours have been a part of my being. After traveling and studying art around the world in places such as Florence Italy, Central St. Martins College of Art & Design London, Dublin Institute of Design, IADT Dún Laoghaire, Córdoba Argentina & Art therapy, Dublin. These variety of different and self-taught experiences have influenced a versatile art. My art has evolved over the years from the combination of: oil and mix-media painting, product design, teaching arts & crafts incorporating nature and recycling material, art therapy, and creating environmental and human well-being projects. With the purpose of unifying these skills I have created ROW Art Design.
I have exhibited at many Cultural Night events over previous years and also at Merrion Square Music School, Airfield Dundrum and The Exchange Temple Bar Dublin 2 Gallery. I have sold Commission Art work in Ireland and internationally. I firmly believe that art contributes positively to many aspects of life, which is why I try to contribute by encouraging & expanding the benefits of art. I actively engage with activities promoting and teaching art in the community and designing eco-friendly conscious sustainability products.
I have taught painting in Saint John of God Institution, Belarmine Community Centre and at my own studio.
I hope you like my paintings and enjoy this fantastic event organised by the SBD.
RUTH HEALY
I have been part of the Kilmacud Art Group for about 16 years . All my work is in pastels. Most of it has been landscapes and flowers but more recently I've tried animals and people with some positive feedback from friends and family…..
SANDI BRENNAN
Sandi has painted for as long as she can remember. After a long career in Display/ Signwriting and Theatre Set Design she is now even more immersed in her art.
She paints in acrylic and oils and especially loves portrait using charcoal/ chalk and pastel.
SARAH WYCKHAM
Sarah Wickham is an Irish artist based in Dublin 6. She specialises in creating bespoke pieces of art using watercolour paint. She particularly enjoys creating meaningful pieces of art which capture life's special moments like your child's first toy, a loving pet, a location which holds a special place in your heart and beautifully personalised gifts for your family & friends' new arrivals. She has just launched her moon print range which include hand written meaningful quotes in a sky full of stars
@SarahWickhamDesigns
SUSANNE SWEETMAN
Dublin based artist, Susanne Sweetman has been painting for 4 years. Graduating from a degree in visual communications Susanne turned to acrylic painting to extend the range of her talent even further.
Susanne's paintings are created to bring joy and inspiration to the viewer.
Instagram @suesy_sweet
SVETLANA STARIKOVA
I am Svetlana Starikova. My first love has always been Watercolours. We met many years ago and didn't leave each other. I love spontaneity and fluidity, instability and tenderness of watercolours. I try to flow together with my passion. I try to show my love everybody and inspire every viewer with my feelings.
I am a watercolours artist and art teacher, lead a watercolours group in W4W. I regularly exhibit my paintings, teach children and adults, and continue to learn from life. Most of my own works inspired by nature. I like open air painting and work not only in studio, but in Dun Laoghaire harbour, Fernhill or Marlay park. My paintings are often flowers. They help me to express my emotions and invite the viewer to consider beauty and delicacy of the world around us.
I paint in "wet-in-wet" and "alla-prima" watercolours techniques. I prefer paintings which look easy-made, clear and bold. I think they show all watercolours possibility.
https://www.facebook.com/svetlana.starikova.10
https://www.instagram.com/svetlana.e.starikova/