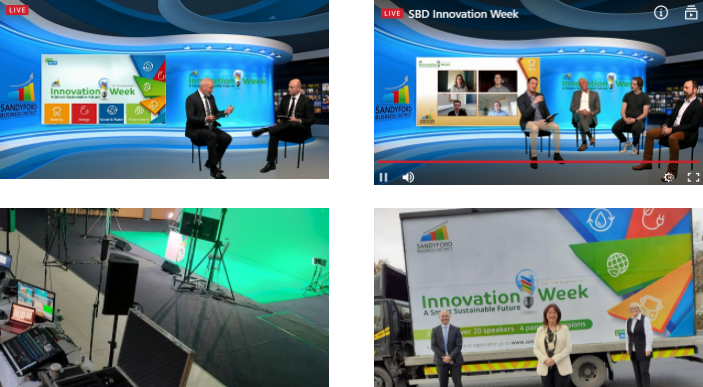 Sandyford Business District Innovation Week 2021
When: Monday, November 15, 2021
---
We were delighted to bring together representatives of global businesses, thought leaders, state bodies and academia for Sandyford Business District Innovation Week 2021. We were privileged to have had the opportunity to hear about the latest solutions on the market as well as the upcoming policies and research directions that will shape the options available to businesses in the coming years. Focusing on four areas - energy, environment, waste & water and mobility - we have been shown how the transition to a more sustainable economy and society will reach the heart of our businesses and the core of our future.
We were delighted to welcome An Cathaoirleach Cllr Lettie McCarthy who opened the event and Minister Damien English who gave an address to the viewers.
Many thanks to all the speakers, panelists and moderators for contributing such fantastic content. We look forward to working with them in the future.
We would also like to thank our tech partners Creative Technology and our event planners Ripple Marketing, both businesses based in the district, for helping make the event a great success.
Thanks too, to the team at The Pavilion, Leopardstown Racecourse - what a fantastic venue with superb views, right on our doorstep!
Thanks also goes to everyone who took the time to attend any of the sessions. We hope you enjoyed it but most of all feel like you have taken something worthwhile from it, no matter how small.
SBD Innovation Week is not just about an event, it is a catalyst for change in the district and surrounding areas and the foundation of SBD's vision to create a sustainable business district: A safer, cleaner district for employees and residents.
To this end we have set up a Project Green Steering Committee and are developing a Green Charter (part of this is to encourage all companies in SBD to have their own Green Charter).
We would like more people to get involved and make suggestions on how to make our district a world class sustainable one: to be a district that residents and employees are proud of and other districts look to for solutions and advice.
If you would like to submit any ideas or suggestions contact ger@sandyford.ie
If you missed any of the sessions you can watch them all here: https://www.sandyford.ie/media-centre/videos
Congratulations to Shane Faulkner (a Sustainability Manager with KPMG) whose name was selected randomly from the list of everyone who attended our sessions. Shane wins a Modmo Saigon S e-bike worth €2,249.