Clayton Hotel Launches new Bay & Sorrel Restaurant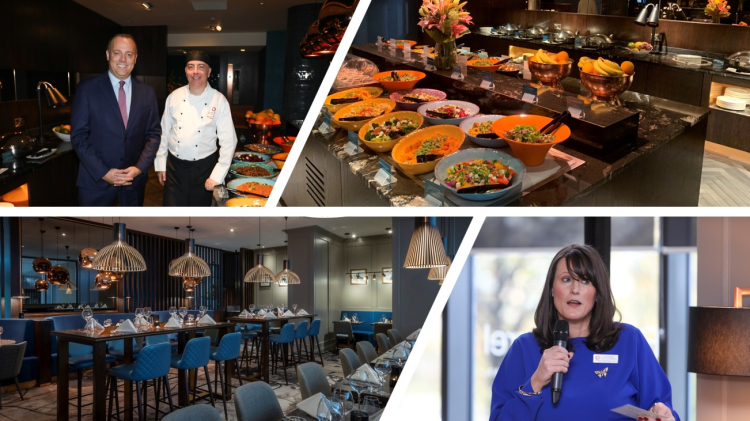 Clayton Hotel Leopardstown launched their new dining experience Bay & Sorrel October yesterday October 20th.
Nestled at the foot of the Dublin Mountains, the freshly refurbished restaurant at the four-star Clayton Hotel Leopardstown is ready to introduce diners to its newly carefully curated menus and stylish dining spaces. The Bay & Sorrel restaurant has recently undergone a €800,000 transformation which has also led to the creation of eight new hospitality jobs for the local area. After months of meticulous planning and consultation with guests and local diners, the restaurant has been significantly refurbished to create one of the most beautifully designed dining spaces in South Dublin.
Operated by Dalata Hotel Group, Ireland's leading hotel operator with a growing presence across the UK and Europe, the hotel enjoys close links with the world-famous Leopardstown race course, and the naming of the Bay & Sorrel restaurant is a nod to the bay & chestnut coloured horses which can be seen galloping for the finishing post.
The name of the restaurant is also inspired by its namesake herbs as well as its location close to Dublin Bay. In addition to its new interiors, and under the guidance of Executive Head Chef Edward Kilpatrick experienced Senior Sous Chef, Sebastian Bell has also completely revamped its extensive menu.
The Dublin-born chef, who trained and worked in Canada before returning to the Irish capital, has a reputation for high standards. His new menu celebrates the very best seasonal produce which, where possible, is sourced locally from first-class producers. Sebastian said: "I have spent several years studying food in countries all around the world and in many different types of kitchens. "I'm excited to put my own stamp on the kitchen at Bay & Sorrel and to be working with such a great team. I am really looking forward to
welcoming guests to the restaurant in the months and years ahead.
"Our new menu really underlines the hotel's commitment to being sustainable and to serving Irish-sourced food from the finest local producers. We also have an extensive
cocktail and wine list. "At Bay & Sorrel, diners can enjoy local and seasonal cuisine in stylish surroundings where they can entertain clients, dine with colleagues or enjoy a relaxing meal with family or friends."
The hotel is the perfect location for guests enjoying a Dublin city break or those seeking an adventure in the nearby Dublin and Wicklow Mountains. It is also an ideal location for business travellers. Guests can find themselves in the city centre after hopping on the Luas while the Wicklow Way is just a short drive away.
After a busy day exploring diners can enjoy the opulence of the new restaurant surroundings while enjoying first class food. The buffet-style lunch offering includes an extensive range of hot and cold options along with a vibrant selection of freshly chopped salads while evening diners can select from a delicious a la carte menu.
Clayton Hotel Leopardstown General Manager, Alan Deller, credits the refurbishment with bringing an entire new look and feel to the hotel. Alan said: "The restaurant is a welcoming and wonderful place for every type of diner. There are now lots of beautiful spaces for families, couples, business colleagues and larger groups to gather for lunch or dinner. "We are extremely lucky to be located at the foot of the iconic Dublin Mountains, close to many shopping destinations and of course, the racecourse which means we always have an amazing mix of people popping in for a quick lunch or relaxing dinner. "We are proud to be able to make such a large investment and add to South Dublin's dining options. We look forward to welcoming many visitors and I would encourage everyone to join us for some delicious food from our new menus and to enjoy our luxurious and spacious rooms."
To find out more about Clayton Hotel Leopardstown visit: https://www.claytonhotelleopardstown.com/ and save €10 ever night with Click on Clayton when you book directly online