David Meade - Local Enterprise Week 2020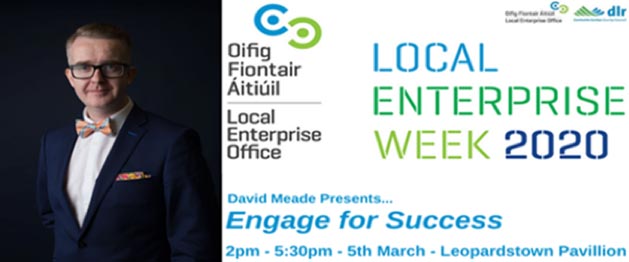 Sandyford Business District would like to invite you to be our guest at David Meade's seminar on Thursday 5th of March.
As part of Local Enterprise Week 2020, David Meade (internationally renowned Speaker, BBC TV Presenter, and Expert on what makes humans 'tick') presents "Engage for Success".
Places are limited, to claim your complimentary ticket please email operations@sandyford.ie with your name, company name and how many complimentary tickets you require. maximum of 5 tickets per company.
Event Outline
Much sought after David will deliver deep insights, new techniques, and vital takeaways to help you succeed. Whether it is closing a deal, an investment pitch, or just day to day negotiations with your kids, David will open your eyes to simple but effective ways to up your game. Having worked with some of the world's biggest brands including Facebook, Google, Harvard University, Microsoft, Deloitte, Saatchi & Saatchi to name a few, this exceptional energetic, fun and engaging Speaker is not to be missed.
For further information, see www.enterpriseweekdlr.ie/engage-for-success.
By accepting Sandyford Business Districts invite, you are agreeing to receiving your ticket from the Local Enterprise Office.
We look forward to seeing you at this exciting event!