Preparing Sandyford Business District for Spring 2018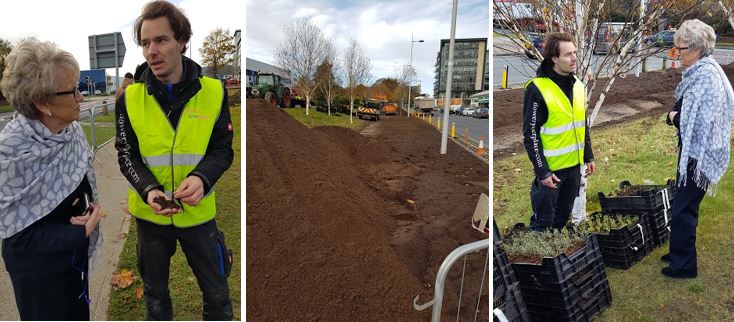 There is a buzz of activity in Sandyford this November with diggers taking out grass lawns and soil which is being replaced with super top soil from Monaghan! Imagine an array of colour and scents welcoming everyone in the District with flowers blooming from early Spring right through to late Summer. This is the vision of the new Senior Parks Superintendent in Dun Laoghaire-Rathdown County Council, Ruairí Ó Dúlaing, who believes that the public space and environment in Sandyford Business District can be dramatically improved.
Dun Laoghaire-Rathdown County Council, working with the Sandyford BID Company, has started a scheme to replace some of the roadside grass verges with bulbs and perennials. The work will include replacing all the depleted soil with high quality nutritious soil. The first phase will focus on three places, namely Carmanhall Road, the intersection of Blackthorn Avenue and Burton Hall Road, and the Bracken Road. The actual area to be covered with new plantings will be more than 1,100m2.
The Sandyford BID Company is also proposing a partnership with companies in the District who want to work with Council to improve their own outdoor spaces, especially those ordering on public spaces. This would entail an initial discussion on planned future improvements and to agree a strategy to ensure a 'joint-up' approach for planting and maintenance.
Sandyford BID Company will continue to monitor the upkeep of the District. Please keep us informed with photographs and location details where you see areas that need maintenance or if you have ideas to improve areas and especially the public spaces in the District. Please contact wessel@sandyford.ie.