Sandyford Business District Awards 2019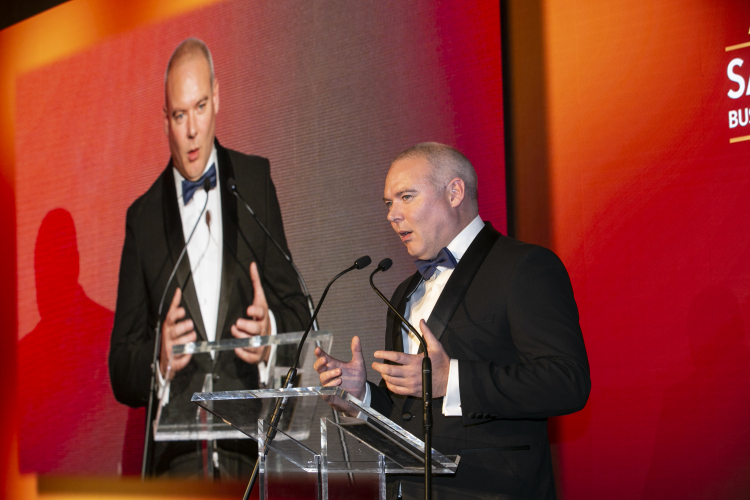 CELEBRATING THE BEST OF BUSINESS
The second Sandyford Business District awards took place at a black-tie gala ceremony held at The Pavilion, Leopardstown Racecourse on Thursday 14th November, where the best of business across the District was celebrated.
Congratulations, not only to all winners and shortlisted competitors but also to all entrants for their efforts and for sharing their varied experiences and ideas with us. We had a record number of entries, all of which demonstrated first class business acumen and entrepreneurship, making the judges' task inordinately difficult.
Our profound thanks to our Sponsors for their most generous support without which this event could not have taken place, and also to our judges for their significant time commitment, expertise and enthusiasm.
Sponsors: AIB, Smith & Williamson, Ion Solutions, Microsoft, Bizquip, Sage Ireland, SSE Airtricity, DLR County Council, CPL, Nord Anglia International School and Cliff Group.
This event was co-funded by Dun Laoghaire-Rathdown County Council.
Category
Winner
Sponsor

Start-Up Award

Treehouse Practice

Pictured here is Dr. Sara O'Byrne from Treehouse Practice receiving their Start-Up Award, sponsored by AIB Ireland. Presenting the Award is Gerard Corcoran, Head of AIB South Dublin, along with Sharon Scally of SBD. L-R: Gerard Corcoran, Dr. Sara O'Byrne, Sharon Scally.

Best Leisure and Wellbeing Venue Award

Zero Latency Dublin

Zero Latency Dublin receiving their award for Best Leisure & Wellbeing Venue. Presented by Tony Lanigan of Ion Solutions Ltd, who sponsored this award. L-R: Ronan Cunningham & Susanna Murphy (Zero Latency), Tony Lanigan, Sharon Scally (SBD)

Best Eatery Award - Café/Coffee Shop

Red Bean Roastery (Clayton Hotel)

Pictured here are Red Bean Roastery of Clayton Hotels receiving their award for Best Eatery – Café / Coffee Shop. Presented by Sharon Scally, Chair of Sandyford Business District. Eatery categories sponsored by Sandyford Business District. L-R: Alan Deller & Nicole Eaves (Red Bean Roastery, Clayton Hotel), Sharon Scally, Jennifer McEnery (Red Bean Roastery, Clayton Hotel)

Scale-Up Award

Brennan & Company

Gary King, Greg Brennan & Dara Cooke of Brennan & Company are pictured here receiving their Scale-Up Award from Marc Lowry, Associate Director of Smith & Williamson, who sponsored this award, alongside Sharon Scally of SBD

Best Eatery Award - Restaurant/Bistro

Freshii Sandyford

Freshii Sandyford receiving their Award for Best Eatery – Restaurant / Bistro from Sharon Scally, Chair of Sandyford Business District. Eatery categories sponsored by Sandyford Business District. L-R: Pictured are Veronica De Luca (Freshii), Sharon Scally, Susanna Darcy (Freshii)

Team Award - Up To 10 Members

TOT Architects

Pictured here are TOT Architects receiving their Award for Best Team – Up To 10 Members. L-R: Isabel Martin-Cabeo (TOT Architects), Chris Ryan (TOT Architects), Noel Harnett (Microsoft), Sharon Scally (SBD), Nathaniel Dwyer (TOT Architects) Ireland who sponsored this award

Team Award - Over 11 Members

Spirit Motor Group

Pictured here are Spirit Motor Group receiving their award for Best Team - Over 11 Members. L-R: Jeff Schumacher (Microsoft), Rebecca McDermott (Spirit Motor Group), Sharon Scally (SBD), Alan Moore (Spirit Motor Group)

Innovation Award

Cubic Telecom

Pictured are Cubic Telecom receiving their Innovation Award from Michelle Leyden, Commercial Director of Bizquip, who sponsored this award category. L-R: Michelle Leyden (Bizquip), Beatriz Alonso Roman (Cubic Telecom), Sharon Scally (SBD), Gillian French (Cubic Telecom)

Social Impact Award

Sage Ireland

Sage Ireland are pictured here receiving their Social Impact Award from Stephen Gallagher, Director of Business Energy at SSE Airtricity, who sponsored this category. L-R: Barry Murphy (Sage Ireland), Coleen Mooney (Sage Ireland), Sharon Scally (SBD), Stephen Gallagher (SSE Airtricity)

Sustainable Business Award

Indigo Real Estate Management

Indigo Real Estate Management receiving their Sustainable Business Award from An Cathaoirleach Shay Brennan of DLRCC, who sponsored this category and co-funded the event. L-R: Paul O'Shea (Indigo Real Estate Management), Lubo Petric (Indigo Real Estate Management), An Cathaoirleach Shay Brennan, Sharon Scally (SBD), Paddy Shortall (Indigo Real Estate Management)

Partnership Award

Beacon Hospital & University College Dublin

The Beacon Hospital, pictured here receiving their Partnership Award for their partnership with UCD. Presented by Barry Murphy, Managing Director of Sage Ireland, who sponsored this category. L-R: Barry Murphy, Ruth Whelan (UCD Beacon Hospital Academy), Sharon Scally (SBD), Prof. Cecily Kelleher (University College Dublin)

Rising Star Award

Tina Coleman - Beacon Hospital

Tina Coleman of Beacon Hospital receiving her Rising Star Award from minister Mary Mitchell O'Connor, Michael Masterson of Cliff Group (Category sponsor) and Paul Crute of NAIS Dublin (Category sponsor). L-R: Michael Masterson, Minister Mary Mitchell O'Connor, Tina Coleman, Sharon Scally (SBD), Paul Crute

Company of the Year Award

Keywords Studios

Company of the Year, Keywords Studios receiving their Award as co-presented by Ciaran Bergin CPL Resources Plc (Category sponsor) & Minister Josepha Madigan. L-R: Ciaran Bergin, Minister Josepha Madigan, Gerry Cleary (Keywords Studios), Sharon Scally (SBD)