Letter from Sharon Scally, our Chairperson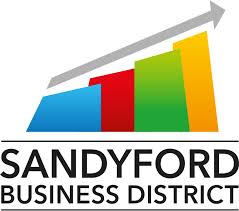 Dear Business Owner,
Together, we are living through unprecedented times with the impact of the Coronavirus pandemic affecting all our businesses, communities and the way we live our daily lives. This isn't business as usual, it is a time of great stress and uncertainty for all. I want to update you on how we're dealing with the situation and the thinking of the board of Sandyford Business District which is wholly focused on Covid-19 and how we can best play a role in protecting businesses, enhancing opportunities and keeping our community safe.
The philosophy of "Working Together" is best exemplified by the incredible response to the Covid-19 crisis shown by Dún Laoghaire-Rathdown County Council. Council staff have been working tirelessly not only in the Sandyford Business District but across the county, ensuring vital services have been maintained and also raising awareness and increasing safety through signage programmes, street marking and numerous other activities. One major initiative that resulted in a huge benefit to the entire county was the Community Call Helpline which responded to thousands of calls for assistance from cocooning, elderly & vulnerable members of society, deliveries of groceries, medicines etc. and advice on support services.
At Sandyford Business District, our key priority is the welfare of our businesses and their employees. We are driving awareness of the need for adherence to the recommended health guidelines through all our communication channels. We are engaging every day, working to identify additional ways to improve on these measures to make the district a safe and enjoyable working environment.
One thousand businesses and twenty-six thousand employees rely on Sandyford Business District to be the voice of our community, so since the start of the pandemic we have been committed to effective representation. Accordingly, we have established a Reboot Sandyford Taskforce which is working to bring forward a number of solutions for your business ranging from healthcare, legal, technological to health and safety. These proposals will form part of a submission to Government which we hope will be adopted as best practice for all communities in Ireland. To date we have:
Introduced a comprehensive advice portal on our website which lists all government supports, HSE and NSAI advice.
Lobbied government to extend the commercial rates waiver to the end of 2020.
Demanded that Insurance Ireland compels its membership to indemnify all companies with business interruption risk policies.
Called on the National Transport Authority and Minister for Transport, to extend the mobility programme to the area so that enlarged footpaths, cycle-ways and parking facilities can accommodate our new normal.
Called on the planning authorities to dilute the application of planning restrictions to accommodate restaurants, food retailers and hospitality outlets to utilise external spaces for their customers and we welcome the announcement by Dún Laoghaire-Rathdown County Council that businesses may apply for temporary street furniture licences which will be valid until 31st December 2020 with no fees - for further information please contact Margaret Coles at 086-8034921.
While the foregoing represents just some of the suite of measures we have activated, we want you to know Sandyford Business District will continue to play its part and to look for new opportunities to benefit the area.
The next step in our Reboot Sandyford activity is crucial and we are asking you for your fulsome backing. It is incumbent on all of us to support the local business community whenever we can. Our businesses do not reach success without the help of loyal customers and our district will not thrive without the help of its community. As businesses start to reopen after three months of severe disruption, we are asking that we all Work Together:
When you need HR planning, guidance and advice
When you are financial planning
When you are organising working from home supplies and services
When you are enhancing or making alterations to your office, premises or home
When you are purchasing food and beverages, groceries etc.
You and your employees can make a world of difference by working together with the great businesses in the district. When we have the means to do so, it's good to give back. Meanwhile, the team at Sandyford Business District continues to work on your behalf and I am confident that you will have access to the best supports you need to combat and contain Covid-19 while staying productive as a business. Please be assured of our unconditional support at this time. I know that we are going to get through this, together.
We thank you for your continued support of Sandyford Business District and wish you the very best in the weeks ahead – Hold firm and stay safe.
Yours sincerely,
__________________________________
Sharon Scally
Chairperson
Sandyford BID CLG trading as Sandyford Business District