Sandyford Business District Signage Launch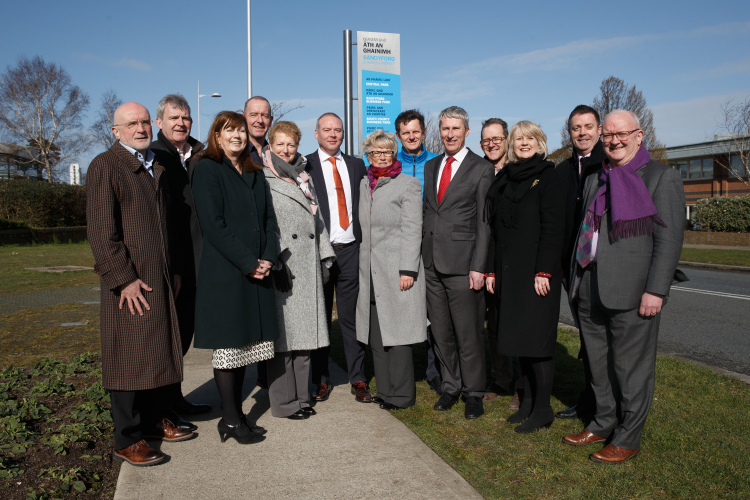 Sandyford Business District Signage Launch
Sandyford Business District in collaboration with Dun Laoghaire-Rathdown County Council is delighted to announce the launch of a new signage programme for the district.
The mission of the Sandyford Business District is to ensure the region is a world class destination in which to work, reside and visit. The rationale behind the new scheme is to clearly identify the four business parks (Central, Sandyford, South County & Stillorgan) which
form the commercial area and unify them under the designation of the Sandyford Business District. This project has been a key objective of Sandyford Business District and, following a detailed consultation/design process started in 2017 and completion of the tender process last year, the signage is now in production with the initial phase now underway.
The scheme comprises:
§ ROAD signs: stainless steel signs, increased in size, to replace the existing blue road signs. The number of locations is increased from 54 to over 80.
§ ENTRANCE signs: Seven newly created 'banner' signs are being erected at key ingress points throughout the district clearly identifying the four individual business parks unified under the designation of Sandyford Business District.
§ GATEWAY signs: The three existing substantial signs (Leopardstown Interchange, Drummartin Link Road and St. Raphaela's Road) have been totally renovated and the graphics changed to 'Sandyford Business District'.
The signage scheme is being produced and installed by Gaelite Signs, Furze Road, Sandyford Business Park. #ThinkSandyfordFirst!
Sandyford Business District and Dun Laoghaire-Rathdown County Council, in support of this strategic business location in South Dublin, have invested nearly €200k in this
project and will be adding additional branding and wayfinding signage in the coming months to complement this scheme.
Enquiries to: operations@sandyford.ie