Sandyford Business District today welcomes the 1500 jobs announced by payments giant, MasterCard.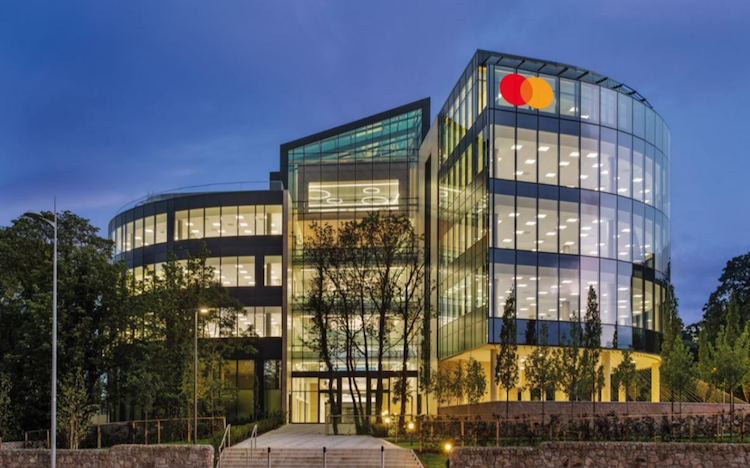 24 February 2020: Mastercard today announced its plans to create 1500 jobs in South County Campus in the next three to five years as it significantly grows its new European Technology Hub in Dublin.
In line with its expansion plans, Mastercard will be taking on additional office space at One and Two South County, a newly built campus site in South County Business Park, Sandyford Business District, not far from Mastercard's current home. Mastercard expects to begin occupying One South County (12,840 sq.m./138,210 sq.ft.) by the end of 2020, with further plans for Two South County (9,685 sq.m./104,239 sq.ft.) when ready. The plans reflect Dublin as a key location in Mastercard's global footprint.
The new campus-style workplace will provide state-of-the-art facilities with positive environmental design principles focused on neuro-diversity, wellbeing and collaboration at its core. Highlights include a rooftop terrace, café, luxurious changing rooms, car parking and wellbeing classes. Mastercard will continue to encourage flexible working and offer above and beyond benefits whilst its people enjoy the new airy and collaborative workplace.
As a leader in payments technology, Mastercard is to grow its workforce with notable investments in its artificial intelligence, cyber security, blockchain, user experience teams, and more. As such, Mastercard will be recruiting for talented technologists with strong development and software skills looking to work on impactful, cutting edge technology projects.
Mastercard Ireland opened its operations in 2008 with 36 staff and since then has grown to over 650 people. Today, it is a vibrant, multi-cultural hub that attracts passionate technologists from Ireland, across Europe, and indeed the world. This is testament to the investment, innovative work and great talent the company enjoys in Dublin and highlights the important role the Dublin Tech Hub plays as part of the global business.
Ed McLaughlin, President of Mastercard Operations and Technology added: "Our Dublin Tech Hub is an innovation engine for our company across Europe and beyond, and we're delighted to be expanding our technology footprint in the city. Our new campus will help us continue to attract the best and brightest tech talent, so that we stay on the forefront of emerging tech trends and are well positioned to forge the future of digital commerce across the globe."
An Taoiseach, Leo Varadkar, said: "This is excellent news and further proof of Ireland's place as a global hub for technology. The 1,500 jobs being created at Mastercard are high quality, skilled positions, which I'm sure will be much sought after. We can never be complacent when it comes to our economy and employment; as a country we must continue to pursue policies which make Ireland attractive to investment and job creation and open to free trade. I commend the IDA for their work in promoting Ireland as an excellent location for investment and I wish everyone at Mastercard well as these exciting expansion plans take shape."
Ken Moore, Executive Vice President of Product and Innovation, and Head of Mastercard Labs said: "We're thrilled to be growing our business in Dublin. It's the home of our technology hub in Europe and global headquarters for Mastercard Labs. With the partnership of the IDA we look forward to welcoming new people with unique ideas to our already strong workforce, ensuring we continue to provide cutting edge payment technology solutions for our customers and consumers globally. We're confident our new workplace will provide a collaborative environment to do this and we look forward to moving into our new home."
Martin Shanahan, Chief Executive at IDA, commented: "This expansion of Mastercard's new European Technology Hub, creating 1500 jobs, is excellent news and demonstrates a substantial commitment to Ireland, making it a key location in the company's global operations. Ireland's position as a leading global financial centre includes a strong record of success in the payments sector. Ireland is home to some of the world's largest payment businesses, including Mastercard. This substantial investment and build out of Mastercard's operations in Dublin is a further strong endorsement of Ireland's standing in International Technology Services and its offering to companies considering locating here. I wish Ken and his team every success with this next phase of development here."
Conor Battigan, Chief Executive, Sandyford Business District, commented:
"We welcome Mastercard's announcement of 1500 jobs in the new South County Campus in Sandyford Business District, it represents a real vote of confidence in the area. "Sandyford Business District has gone from strength to strength in recent years with the quality of businesses we are attracting. This does not happen by accident and I would like to commend the business community for readily working with us to adopt initiatives which enhance where we work, live and visit."