SBD 12 Businesses of Christmas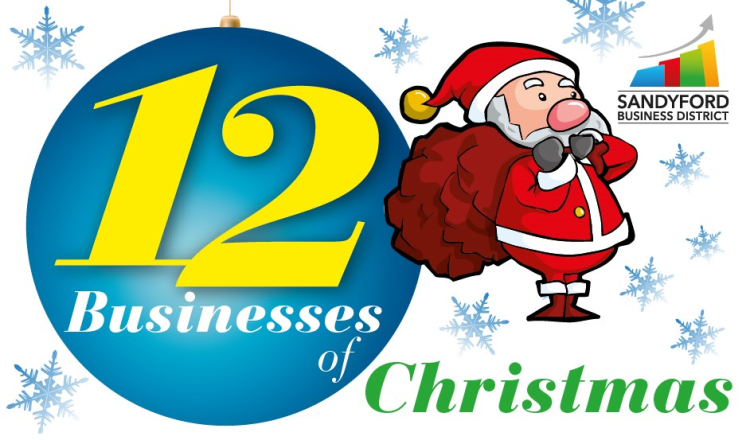 Our 12 Businesses of Christmas Campaign is just one of the activities in our overall Spend In Sandyford at Christmas Campaign.
Each day we will be promoting a different SBD Business and an offer or prize they have exclusively for the district.
With such a huge variety of retailers, restaurants, motor and leisure businesses here there are so many reasons to shop locally.
Don't forget every €10 spent here in our district generates almost €50 for our local businesses.
So, shop local this Christmas - Spend in Sandyford #SpendInSandyford #ShopLocal.
DAY 1: DECEMBER 1st .....and we're off!!
Our 1st featured SBD Business is… GREEN MANGO SANDYFORD
Award Winning Thai Food for delivery or collection.
With gluten free, low calorie and dairy free options throughout their menu. Dishes are cooked to order so the restaurant can adjust to cater for all requirements.
Green Mango is offering 15% off online orders on their app or www.greenmango.ie. To avail, enter SBD15 into the voucher code box at the checkout. This discount isn't valid with any other offer and runs until 16th December.
Day 2: Today's Featured SBD Business is…WHOLESALE FLOWERS BY FLOWERS MADE EASY
Wholesale Flowers by Flowers Made Easy. For a wide selection of Christmas flowers and wreaths, gift ideas, champagne and hampers.
They are offering everyone in the district a 10% discount. Use the code FME10.
Wholesale Flowers by Flowers Made Easy is one of Ireland's largest Wholesale Floral and sundry suppliers based in Sandyford. They have
been trading for over 15 years and have a floristry team with a wealth of experience.
Their sole purpose is to provide their loyal customers with everything from the world of floristry including the best quality fresh flowers, all with an exceptional service and a super price. They do this through their amazing bespoke facilities, super staff, a fantastic online flower shop and a direct link to Holland's finest flower suppliers and growers. They build and create luxury gift hampers for any occasion, combining quality
Irish products.
Whether you choose one of their beautiful collection pieces or want to create something special from an idea their in-house customer service team are on hand to help you with any queries or ideas you might have.
Wholesaleflowers.ie / Flowersmadeeasy.ie is delighted to offer all members of Sandyford Business District a 10% discount. Use the code
FME10
View their website for inspiration or call into their Sandyford showrooms!
www.wholesaleflowers.ie / www.flowersmadeeasy.ie
10 St Kieran's Enterprise Centre, Furze Road, Sandyford D18
#SpendinSandyford
Day 3: Today's featured SBD Business is…Me2You GIFT CARDS
Me2You gift cards offer the perfect gifting solution this Christmas
And we have a €100 Me2You Gift Card to give away - check out our Twitter, Facebook and Instagram Pages to enter! (the winner is Denise Coughlan - announced 8.12.21)
Irish owned and operated from here in Sandyford, Me2You gift cards support Irish retail and shopping local — which is more important than ever, particularly during these uncertain times.
A Me2You gift card is the ideal way to reward staff this Christmas, the perfect solution to your corporate gifting needs, be it for staff or clients.
Employers can reward their staff for all their hard work this year with a Me2You gift card of up to €500 tax-free. It's also a great way to wish clients a happy holiday.
The gift card can be used in more than 5,000 local stores across the country, including Smyths Toys, Arnotts, Penneys, Brown Thomas, H&M, River Island, Harvey Norman, CompuB, Currys, Woodies, Maxi Zoo, Boots, M&S, TK Maxx plus so many more.
The large selection of retail partners means that there is something for everyone, whether it is used for everyday essentials or more luxury purchases.
It can also be used in more than 1,000 online stores, meaning you can get everything you're looking for safely delivered right to your door.
The only Guaranteed Irish multi-store card, a Me2You gift card is a secure and trusted gifting solution this holiday season —making it even easier for anyone looking to give the gift of choice this Christmas.
Let Me2You gift cards help you this Christmas with the ideal gifting solution- contact the team today on 01 5542000, email sales@me2you.ie or visit me2you.ie for more information.
10 Burton Hall Ave, Sandyford Business Park, Dublin 18 Tel: 1850911 888
www.me2you.ie
Day 4: : Today's featured SBD Business is ...BIZQUIP
Bizquip are giving customers in their retail store an additional 10% off all of their gorgeous Hübsch products. Products from this stunning Danish brand include home office desks, home accessories, storage, stunning gifts and much much more.
Just mention #SpendInSandyford when you are speaking to the team to get your additional 10% Hübsch discount which is available until December 23rd.
Day 5: : Today's featured SBD Business is ...FRESHII CENTRAL PARK LEOPARDSTOWN
Freshii helps citizens of the world live better by making healthy food This wonderfully healthy takeaway serves a wide range of items such as soups, salads and wraps, burritos and frozen yogurts. You can order your takeaway food online at flip dish, call 01 5580018 or email centralparkleopardstown@freshii.com.
Freshii are giving free energy bites with every order until December 10th. Just mention #SpendinSandyford
Day 6: Today's featured SBD Business is ...SIMPLY BEAUTY
Simply Beauty has been at the forefront of beauty and skincare treatments since 2011. In addition to providing traditional beauty treatments, we also specialise in Permanent make-up and Embrowdery, and we are the only beauty salon in South Dublin providing professional Mesotherapy.
We have built our reputation on our uncompromising commitment to the highest standards in the beauty industry. With our passion and attention to detail, using the latest techniques and the best quality products on the market, we offer a wide range of Beauty Treatments to help you unwind and feel glamorous from head to toe. Browse our website to find more about all our treatments and products we can offer you! Or simply give us a call or book your appointment online and we look forward to welcoming you. Evelina and the Simply Beauty team
COMPETITION TIME: They now have 40% off all laser hair removal sessions. And 1 lucky winner can win Free Shellac nails. Check out our Twitter, Facebook and Instagram Pages to enter!
SIMPLY BEAUTY - Central Park Unit LG06, Block L, Central Park, Dublin 18, D18 W952 T +353 1 5980641 www.simplybeauty.ie
Day 7: Today's featured SBD Business is…D18 RESTAURANT .
D18 is an elegant restaurant perfect for business meetings, catching up with friends and family or indeed just a little you time with some relaxing music in the background.
In the heart of Sandyford Business District and only a two minute walk from the Stillorgan Luas stop and the Beacon South Quarter. D18 will provide you with the best hospitality and food experience. Their menu offers something for everyone and they have a full wine list to complement your dining experience.
And for 9th and 10th of December ONLY D18 has this fabulous offer
Buy one breakfast/brunch/dinner, get one half price (cheaper item half price) plus a complimentary glass of wine after 3pm.
D18 Restaurant
The Forum, Ballymoss Road,
Sandyford Business Park,
Sandyford,
Dublin 18
+353 (0) 1 206 9909
Day 8: Today's featured SBD Business is…HEALING YOGA
Dedicated to empowering people with the skills to live a life of greater ease, harmony, creativity, and health. Weekly Somatic Movement classes relieve anxiety, insomnia, pain, and overwhelm. Rediscover joy, ease and balance in body, heart and mind.
And there's an exclusive offer for the district – 50% off Somatic Movement Classes booked in January or February '22
Mention #SpendInSandyford to get your discount and tag @healingyogasoma to avail of this offer!
"Thanks so much for the online classes, I'm finding them so beneficial with all the stress and tension at the moment. I feel energised and more connected deeply within myself, both physically and emotionally. It encourages me to open up rather than shut down and survive. It helps manage my symptoms of MS too." Anna- Nurse
Laura's somatic classes are truly life changing. From the moment I started the class I was guided so gently and lovingly with Laura's voice, I never even had to sit up and watch the screen- the same screen that I had been wallowing in helplessly for the whole week at work became a portal for calm. Thank you Laura for helping me relax my limbs, my bones and my oh so taut muscles. Thanks for taking such great care of me during your class, from the bottom of my heart."
– SHEILA O'KEEFFE , BUSINESS OWNER
"Healing Yoga has been a blessing for me during the pandemic, it has really improved my long term back pain and has also decreased my levels of stress. Laura is a very warm and patient teacher. She encourages you to work with your body instead of against it. Her one-on-one sessions provide a personal introduction to the practice and include tailored exercises to suit your individual experiences. Laura can also provide Zoom recordings of your classes on request for you to practice in your own time. Would highly recommend, thank you for all your work this year."
– ISABELLA, ADMINISTRATIVE EXECUTIVE
Day 9: Today's featured SBD Business is…ZERO LATENCY

Offering 20% off all bookings in December and January use code SBD
For those of you who haven't seen the HUGE Zombie garnishing our building and wondered to yourself "What goes on in there?" We here at Zero Latency are Ireland's first and only free roam virtual reality warehouse scale, multiplayer Virtual Reality (VR) entertainment experience.
With a range of games to choose from, up to 8 players at a time can see each other as full motion avatars and communicate through headsets, whilst exploring different areas in the virtual space.
Our gaming sessions are great for birthday parties, team outings, off sites, or general roistering with friends and family. Like a phoenix rising from the ashes, our return from lockdown has been bright, fiery, and busy but we always have time for our neighbours in Sandyford. Want to take the team out for the evening, say no more. Need an activity for the family on a weekend, did you know we're open all day Saturday and Sunday? We tend to book out a week or two in advance and Christmas Parties around the corner make sure you ping us before it's too late.
To book any gaming session or to check availability mosey on to https://booking.zerolatencyvr.com/book-now/dublin/#_ChooseSession. For those who would like to only shoot robots, not interact with them, a real life person can be reached at 01 293-4785 or hello@zerolatencyvr.ie
Day 10: Today's featured SBD Business is…BODY HEALTH & FITNESS (BHAF)
We are a private gym with a small membership base. We specialise in Personal Training with a focus on fat loss through strength training from beginners through to advanced. We also currently have a membership special of €35 per month with no joining fees.
And Today's featured SBD Business is…PIZZA HUT SANDYFORD

FREE PIZZA when you buy a Medium or Large Pizza at Pizza Hut Sandyford TODAY (Dec 15th) Order now on 01 2930100 or here https://bit.ly/3EmIHBk
USE Code BOGOF. This is our gift to you – ENJOY!
T&C's: Free pizza up to 4 toppings. Additional charge applies for premium crust and/or additional toppings. Please mention the code when ordering. Not available in conjunction
with other offers/specials/meal deals.
Day 11: Today's featured SBD Business is ...POSTIVE DOG TRAINING
Positive Dog Training is a progressive, force free dog training centre which also provides compassionate welfare friendly dog grooming and a fun cage free doggie daycare.
Now offering a 15% discount for their online shop when you use the cod SBD15 The link to the online shop is here - https://www.positivedogtrainingdublin.com/
Day 12: Today's featured SBD Business is ...THE CLAYTON HOTEL LEOPARDSTOWN
This Christmas, give the gift of great experiences at Clayton Hotels. With 48 hotels to choose from across Ireland & the UK. Win a €50 gift card from @ClaytonHotelLeopardstown
Check out great package deals https://bookings.claytonhotelleopardstown.com/offers-hotel
To enter like & retweet (COMPETITION CLOSED)