SBD CEO speaks about Green Mobility at the Smart City Expo World Congress in Barcelona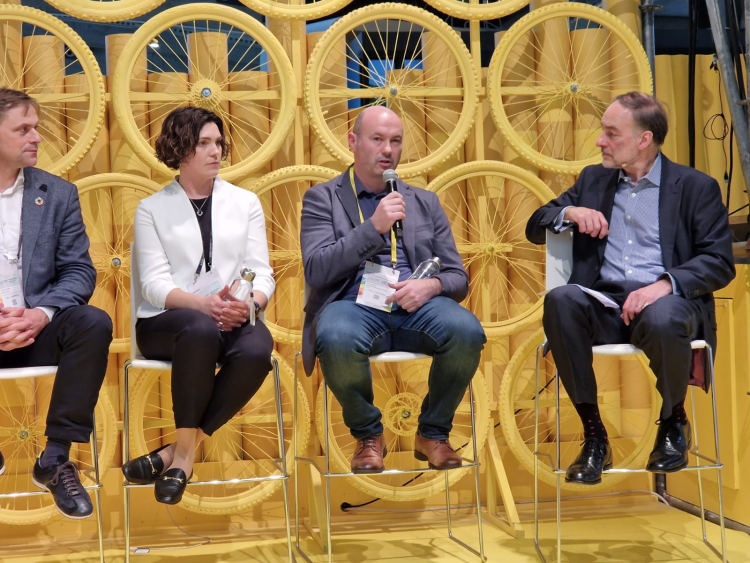 Sandyford Business District CEO speaks about green mobility at key international conference
Ger Corbett, CEO of Sandyford Business District, Ireland's largest business district spoke at the Smart City World Congress in Barcelona on November 15th, providing an Irish perspective to the event which has been bringing together leaders and innovators from cities from across the world for over a decade.
Mr Corbett presented SBD's insights on the key area of promoting green mobility and Sandyford's learnings from participation in the EU-funded Smart Cities Marketplace "Small Giants" Initiative.
Joining Mr Corbett at the panel discussion were Mr Leo Huberts, policy officer with the European Commission, and Tomaz Lanisek a representative from Kranj in Slovenia, a fellow participant locality in the programme, as well as speakers from the e-mobility industry, and the investment community involved in the initiative, represented by Ms Phoebe Smith of the Smart City Innovation Fund.
The EU "Small Giants" initiative has brought together a group of cities that are collaborating to drive sustained changes to mobility habits. The discussion addressed the needs, intentions, and benefits of working with smaller cities as well as the actions that investors, industry and institutions can take to support demand aggregation amongst cities and the value that can result from such initiatives.
The discussion was both timely and forward-looking, examining how the energy crisis could encourage people to move towards more sustainable modes of transport but also underlining the importance of setting the right incentives for the long-term.
Beyond the EU programme, Sandyford Business District has taken the lead in Ireland in promoting sustainable mobility in the Sandyford area; working with Dún Laoghaire-Rathdown County Council to roll out eCargo bikes for local businesses, as well as hosting an Innovation Summit at Leopardstown Racecourse which showcased a range of eMobility options.
Commenting after the discussion, Mr Corbett said: "I was delighted to represent SBD at the Smart City Expo World Congress in Barcelona where I got an opportunity to discuss green mobility and the EU 'Small Giants' Initiative. SBID has benefitted from the support and expertise of many valuable partners across the EU and Ireland, and this has been a fantastic opportunity to showcase the innovation and leadership of the district's businesses in embracing the future of transport.
Working with Government, Dún Laoghaire-Rathdown County Council, our members and the network of Smart Cities and business districts, we have been able to make significant gains. Our ambitions are best encapsulated by our recent initiatives; such as the Green Charter under which we are pursuing the objective of becoming Ireland's leading sustainable business district.
Being part of the Smart City Expo World Congress has given me an unrivalled opportunity to gain further insights for SBID to leverage in its sustainability activity,
while sharing best practice based on the district's own experience.