SBD Cycle Friendly Employer Initiative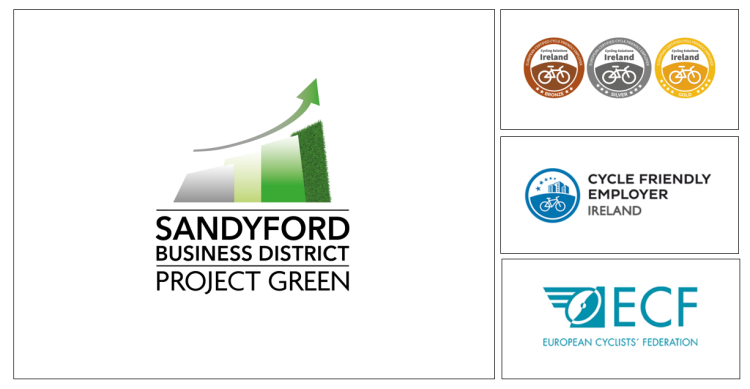 SBD: Cycle Friendly Employer Initiative 2022 - 2023
Cycle-Friendly Employer – Why it Matters to Sandyford Business District
The current environment and climate challenges are now shared by every employer, employee and resident of SBD -The time has come to decarbonise how we live and work.
We at SBD don't often make a call to action but we are now asking all employers to sign up to make their workplace a Cycle-Friendly Workplace and help to make SBD Ireland's First Cycle-Friendly Business District.
Collaborating with Cycling Solutions Ireland, the national coordinator appointed by the European Cyclists' Federation, delivers the European Standard Cycle Friendly Accreditation here in Ireland.
Background:

Cycle Friendly Employer (CFE) is an initiative designed by the EU and the European Cyclists' Federation.
The project's objective is to provide employers with EU-standard certification to measure their bicycle friendliness in the European workplace (i.e. adequate bike parking facilities, showers, mechanic services, employee development and staff wellness/CSR programmes etc.).
The goal of the project is to encourage employees to cycle to work by helping employers to provide the required facilities and resources – and to acknowledge the companies that do so with EU Cycle Friendly Employer Accreditation.
Employers, Register your interest today here: Self Evaluation - Cycling Friendly Employer Ireland (cyclingsolutionsireland.ie)
Closing date for the first 30 employers in Phase 1 is Friday 25th Feb 2022
Get your business Cycle-Friendly ready!
Why should your business become a Cycle-Friendly Employer?
Becoming a cycle-friendly workplace makes sense not only for the environment, but also as an employer. Some employer benefits include:
Enhances and certifies employers' active and sustainable travel preparedness
Demonstrates employers' commitment to their active and sustainable travel strategy for their employees
EU certification and accreditation
Increases employee engagement and improves employee physical and mental well-being
Makes employers more attractive to top-tier talent and improves employee retention
Reduces employers' scope 3 CO2 emissions
Reduces congestion
Increases opportunities for collaboration with other businesses in or near the workplace on active and sustainable travel initiatives.
This goes without saying, but it's not just the employer that can reap the benefits. Some employee benefits include:
Improves employee cycling experience and physical and mental wellbeing
Enhances employee engagement and cross-team togetherness
Reduces employee spend on car maintenance, fuel, parking and public transport costs
Improved employees access to improved cycle related services including regular on-site bicycle mechanics, bike demonstration days, bike
pooling opportunities
Reduces employee carbon footprint
Contribute to a cultural shift to #MoreCyclingSBD