Spend in Sandyford Christmas Campaign - Help Reboot The Local Economy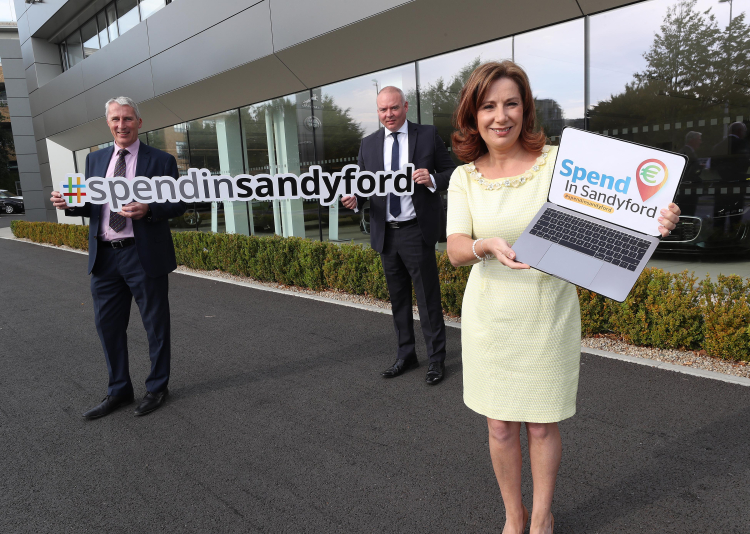 Sandyford Business District has today launched a new initiative and awareness campaign to encourage consumers and businesses alike to Spend in Sandyford this Christmas and beyond. The campaign is aimed at encouraging people working, living and running a business in the District to think local, to support enterprises located here and to help fuel recovery this autumn.
A vast majority of businesses in Sandyford Business District are fully open with staff re-employed and efforts being made to return to normal sales. The decision to embark on the campaign was taken by the Board of Sandyford Business District as they are acutely aware from listening to business owners many are worried about consumer spending trends since Covid-19 began.
Spend in Sandyford will run from Monday the 16th of November 2020 for an indefinite period of time. The campaign has received endorsement and backing of a whole host of businesses in the District, residents in the community, local sports clubs and politicians.
According to available data every €10 spent locally generates more than €40 of benefit to the District. It is one of a number of campaigns the business representative group has planned to help boost the local economy.
Chairperson of Sandyford Business District, Sharon Scally said "Some of our local businesses were forced to close for the duration of lockdown – placing huge pressure on them and their employees, despite government initiatives aimed at alleviating the worst impacts of the pandemic. Therefore, supporting businesses in the District is more important now than it ever has been and helping our local economy to sustainably rebuild is an effective way of maintaining a resilient business community".
"The Spend in Sandyford initiative is a way of continuing to build interest in local businesses and helping them stay afloat – while alerting everyone, whether resident or visitor, to the fact that we are a business destination with reach across a multitude of sectors ranging from retail, hospitality, health, motor, financial services to technology".
"With just weeks left in 2020 we are urging people in the District and beyond to help make a difference to businesses located here. Everyone can play their part whether you buy something from a local retailer, conclude a deal with a contractor or the services industry, buy a new car or make a special effort to eat out or grab a coffee".
"We desperately hope to see more and more people from the area out in force supporting businesses in the District throughout the Spend in Sandyford week and beyond" Sharon Scally concluded.