« Back to Wellness Week 23 Main Page
Free Gym & Fitness Workouts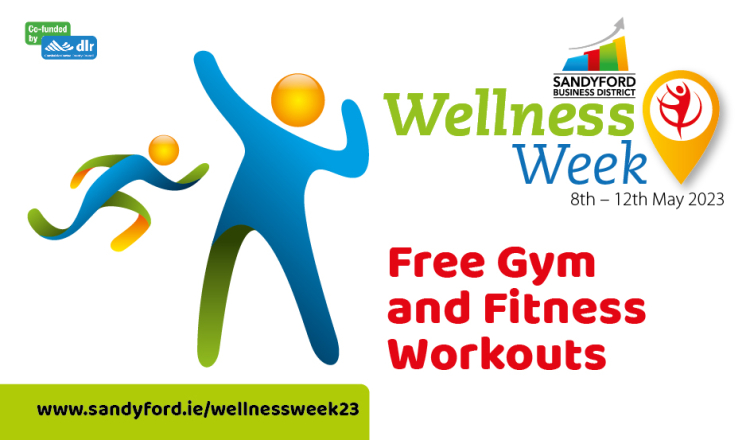 This year for Wellness Week we've teamed up with some of the fantastic gyms and fitness providers to bring you FREE workouts EVERY DAY.
There's a huge variety to choose from: Yoga, Jiu-Jitsu, Cardio, Strength & conditioning. Pick one or pick them all - it's up to you.
Watch this space for the full schedule with locations, dates and times! We'll include contact email addresses so you can reserve your FREE space
Raw Gym Free Classes:
Monday 8th 1.30 - 2.30: Raw Strength
Tuesday 9th 1.30 - 2.30: Raw Burn
Wednesday 10th 1.30 - 2.30: Raw Race
Thursday 11th 1.30 - 2.30: Raw Strength
Friday 12th 1.30 - 2.30: Raw Burn
https://www.myrawgym.com/sandyford-business-district/
Raw Gyms
Where nightclub meets gym, we create the ultimate training experience that you will want to relive over and over again. We break all the rules. We believe in real results and we don't take ourselves too seriously. We deliver inspirational, vibrant fitness classes led by the best instructors in Dublin. We hire dedicated, passionate fitness professionals. We believe in creating customised workouts that take the boredom out of training
YOGA LAB
Join any of the classes on the Yoga Lab schedule for FREE.
View their schedule here: https://www.yogalabdublin.com/
Register for a class via the GLOFOX App https://apps.apple.com/ie/app/glofox/id916224471
1st Floor, 28 Corrig Rd, Sandyford, Dublin, D18 V274
Yoga Lab offers a wide range of classes: Choose from Fitball, Mum & Baby, Gentle Yoga, Step & Tone, Hot Yoga, Pregnancy Yoga, Pliates, Astanga or Yin Yoga.
GRACIE BARRA, Jiu-Jitsu for everyone
Gracie Barra Jiu-Jitsu are offering open access to all beginner* classes on their schedule.
Book in advance by emailing: info@gbdublin.com
Monday 8th 6pm
Tuesday 9th 7pm
Wednesday 10th 6pm
Thursday 11th 7pm
Friday 12th 6pm
Saturday 13th 10.45am
View their schedule here: https://www.gbdublin.com/schedule
* 'GB1 – Beginners' = beginner classes
1st Floor, 28 Corrig Rd, Sandyford, Dublin, D18 V274
​Email: info@gbdublin.com
C2F - CHAPTER 2 FITNESS
Crossfit are offerIng 3 x Morning Classes and 3 lunchtime classes for FREE (Accessible to all levels of fitness) .
MORNINGS
Monday 7am: Barbell Strength Class (CrossFit Strength)
Wednesday 7am: - Aerobic Fitness (CrossFit Aerobic)
Friday 7am: - SWEAT & SHRED HIT Class (CrossFit HIT)
LUNCHTIMES
Monday 1pm: Barbell Strength Class (CrossFit Strength)
Wednesday: 1pm - CrossFit (CrossFit Bodyweight)
Thursday: 1pm - HYROX (Aerobic Class)
To register for any of these classes, please email in advance jamie@headonfitness.ie

**Pre-registration is essential for all classes to ensure we maintain the quality and safety of the class. https://www.chapter2fitness.ie/

61D Heather Road, Stillorgan Business District




WEST WOOD CLUB

Westwood Club Leopardstown are offering a FREE 7-DAY PASS with access to all of their fitness classes and facilities. From Monday 8th May to Sunday 14th May.

To get your 7 DAY PASS click here: https://westwood.ie/sandyford-wellness-week

WEST WOOD CLUB is also offering free Tennis Court Time during Wellness Week

Monday, May 8th: 1pm – 3pm

Tuesday, May 9th: 12pm – 2pm

Thursday, May 11th: 11am – 1pm

Friday, May 12th: 10am – 12pm

Register at

https://westwood.ie/sandyford-wellness-week

Leopardstown Race Course, Dublin 18, D18 C9V6

Phone:01-2893208

Email: infoleopardstown@westwood.ie

Map: Open Google Maps




TOTAL PHYSIO

Our services include: physiotherapy, back pain, sports injuries, clinical pilates, sports massage, pregnancy care, orthotics, vestibular rehabilitation, running & gait analysis, dry needling, and corporate.

Total Physio are offering the following scheduled classes:

Monday 8th May 1:15pm (45mins) - Pilates taster with Joe Hastings

Tuesday 9th May 1:15pm (45mins) - Strong and Flexible Class taster with Patrick Holohan

Register in advance by emailing info@totalphysio.ie or phoning 01-2137000 if you wish to come to either class! Simply wear comfy clothes and bring some water to
hydrate 😊

We are located across the road from Sandyford LUAS stop.

Address: 31 Sandyford Office Park Blackthorn Avenue Sandyford D18 N2C5

Womens Fitness

https://womensfitnessdublin.ie/

Since 2010, thousands of women have walked through our doors and changed their lives for the better. Womens Fitness is their place for proper headspace. Women can be themselves and workout with no pressure or judgement. Everyone from staff to our members are here to support and guide each other. And now we are open in Sandyford.

We connect women through health and fitness. Mothers, sisters, friends, cousins, brides, work colleagues, students and so many more have found friendships within our doors.

What will you find?
Fully Equipped Gym
Over 60 Fitness Classes Per Week
Private Nutritional Consultations
We Are A Gym For Beginners Who Stay For Life.
OFFER - Womens Fitness Wellness Week '23 offer to Friday 12th May).
1 Week for €9.99 includes: PT session, Unlimited classes, Gym access - only available Monday 8th
Email: sandyford@womensfitness.ie

Phone: +353 1 26781117 Holly Ave, Stillorgan Business Park, Sandyford, Dublin







F45 Sandyford

https://f45training.ie/sandyford/home

TEAM TRAINING. LIFE CHANGING.

F45 are offering a great discount for our next challenge starting on the 15th of May for people that attend one of the following F45 classes during Wellness Week
2023:

Free to attend:

Thursday 11th May 5:40pm or 6:30pm

Thursday 11th May 12 - 2.30pm, meet Carla at Wellness Hub (D18 N6K8) for full information about the upcoming F45 challenge starting Monday 15th May.

Address:

1 PLAZA LEVEL, BEACON

SOUTH QUARTER SHOPPING CENTRE,

SANDYFORD, DUBLIN 18.

Email: SANDYFORD@F45TRAINING.IE

Phone: 015543645




OVERVIEW OF FREE CLASSES BY DAY

Monday 8th May

7am – 8am: Venue Chapter2Fitness

Barbell Strength Class (CrossFit Strength)

Register

Chapter2Fitness 61D
Heather Road, Stillorgan Business District

________________________________________

1pm – 2pm: Venue Chapter2Fitness

Barbell Strength Class (CrossFit Strength)

Register

Chapter2Fitness 61D Heather Road, Stillorgan Business District

________________________________________

1:15pm – 2pm Venue: Total Physio

Pilates taster with Joe Hastings

Register info@totalphysio.ie

31 Sandyford Office Park Blackthorn Avenue Sandyford D18 N2C5 across the road from Sandyford LUAS stop

________________________________________

1.30pm - 2.15pm: Venue Raw Gyms:

Raw Strength

https://www.myrawgym.com/sandyford-business-district/

Raw Gyms, 2 Burton Hall Road, Sandyford Business Park, Dublin 18 D18W860

________________________________________

6pm – 7pm: Venue Gracie Barra

Beginners Jiu-Jitsu

Register: info@gbdublin.com

Gracie Barra 1st Floor, 28 Corrig Rd, Sandyford, Dublin, D18 V274

________________________________________

Tuesday 9th May

1:15pm (45mins) – Venue Total Physio

Strong and Flexible Class taster with Patrick Holohan

Register info@totalphysio.ie

Total Physio 31 Sandyford Office Park Blackthorn Avenue Sandyford D18 N2C5 across the road from Sandyford LUAS stop

________________________________________

1.30 - 2.00: Venue Raw Gyms

Raw Burn

Register

Raw Gyms, 2 Burton Hall Road, Sandyford Business Park, Dublin 18 D18W860

________________________________________

7pm Venue Gracie Barra

Beginners Jiu-Jitsu

Register: info@gbdublin.com

Gracie Barra 1st Floor, 28 Corrig Rd, Sandyford, Dublin, D18 V274

________________________________________

Wednesday 10th May

7am: - Venue Chapter2Fitness

Aerobic Fitness (CrossFit Aerobic)

Register jamie@headonfitness.ie

Chapter2Fitness 61D Heather Road, Stillorgan Business District

________________________________________

1.30 - 2.15: Venue Raw Gyms

Raw Race

Register

Raw Gyms, 2 Burton Hall Road, Sandyford Business Park, Dublin 18 D18W860

________________________________________

1pm: Venue Chapter2Fitness


CrossFit (CrossFit Bodyweight)

Register jamie@headonfitness.ie

Chapter2Fitness 61D Heather Road, Stillorgan Business District

________________________________________

6pm Venue Gracie Barra


Beginners Jiu-Jitsu

Register: info@gbdublin.com

Gracie Barra 1st Floor, 28 Corrig Rd, Sandyford, Dublin, D18 V274

________________________________________

Thursday 11th May

1pm – 2pm: Venue Chapter2Fitness

HYROX (Aerobic Class)

Register

Chapter2Fitness 61D Heather Road, Stillorgan Business District

________________________________________

1.30 - 2.15: Venue Raw Gyms


Raw Strength

Register

Raw Gyms, 2 Burton Hall Road, Sandyford Business Park, Dublin 18 D18W860

________________________________________

7pm Venue Gracie Barra

Beginners Jiu-Jitsu

Register: info@gbdublin.com

Gracie Barra 1st Floor, 28 Corrig Rd, Sandyford, Dublin, D18 V274

________________________________________

Friday 12th May

7am: - Venue Chapter2Fitness


SWEAT & SHRED HIT Class (CrossFit HIT)

Register

Chapter2Fitness 61D Heather Road, Stillorgan Business District

________________________________________

1pm – Venue Chapter2Fitness

HYROX (Aerobic Class)

Register

Chapter2Fitness 61D Heather Road, Stillorgan Business District

________________________________________

1.30pm– 2.00pm: Venue Raw Gyms

Raw Burn

Register:

Raw Gyms, 2 Burton Hall Road, Sandyford Business Park, Dublin 18 D18W860

________________________________________

6pm Venue Gracie Barra

Beginners Jiu-Jitsu

Register: info@gbdublin.com

Gracie Barra 1st Floor, 28 Corrig Rd, Sandyford, Dublin, D18 V274

________________________________________

Saturday 13th May

10.45am – 11.45am Venue Gracie Barra


Beginners Jiu-Jitsu

Register: info@gbdublin.com

Gracie Barra 1st Floor, 28 Corrig Rd, Sandyford, Dublin, D18 V274

________________________________________

YOGA LAB (every day!)

Join any of the classes on the Yoga Lab schedule for FREE.

View their schedule here: https://www.yogalabdublin.com/

Register for a class via the GLOFOX App https://apps.apple.com/ie/app/glofox/id916224471

Yoga Lab 1st Floor, 28 Corrig Rd, Sandyford, Dublin, D18 V274

WEST WOOD CLUB (every day)

Westwood Club Leopardstown are offering a FREE 7-DAY PASS with access to all of their fitness classes and facilities. From Monday 8th May to Sunday 14th May.

https://westwood.ie/sandyford-wellness-week

Leopardstown Race Course, Dublin 18, D18 C9V6

Email: infoleopardstown@westwood.ie

Westwood Club is also offering free Tennis Court Time

Monday, May 8th: 1pm – 3pm

Tuesday, May 9th: 12pm – 2pm

Thursday, May 11th: 11am – 1pm

Friday, May 12th: 10am – 12pm

Register:

https://westwood.ie/sandyford-wellness-week

Womens Fitness Wellness Week '23 offer to Friday 12th May available Monday 8th
1 Week for €9.99 includes: PT session, Unlimited classes, Gym access - only
Email: sandyford@womensfitness.ie
Phone: +353
1 26781117 Holly Ave, Stillorgan Business Park, Sandyford, Dublin