« Back to Wellness Week 23 Main Page
Wellness Hub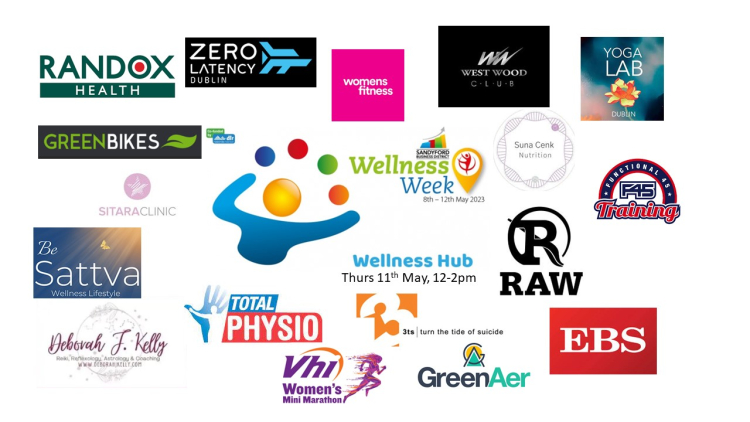 On Thursday May 11th we'll be running a Wellness Hub - our Health & Wellness Zone
Venue: HUB17 17 Corrig Road Sandyford Business Park, Sandyford, Dublin 18, D18 N6K8
When: May 11th 12 to 2pm.
What to expect on the day:
3Ts (Turn the tide of Suicide) SafeTALK the signs of stress, anxiety and suicide in community settings (workplace, sports bodies, educational facilities etc) and how to help those who need it. Free to attend. Register at operations@sandyford.ie
Green Bikes - ebikes test drivesRandox Health: Body Composition analysis and Blood Pressure Testing

1:1 with Personal Trainers from RAW Gyms
Sitara Clinic: Experts in Aesthetic Treatment
Suna Cenk: Nutrition
Womens Fitness Sandyford
Total Physio
Nuture's Space: Chair Massage/ Energy Healing
Spirit Sandyford 5k Team (Organisers of Women's MIni Marathon)
Deborah J Kelly: Reiki Reflexology, Meditation, Astrology & Life Path Coaching)
Westwood Club
EBS: Financial Wellbeing
BeSattva massage and wellness centre

Also joining us at the Wellness Hub will be the team from Zero Latency, Ireland's No 1 Virtual Reality Gaming experience who are based here in Sandyford. Try out one of their virtual reality adventures!.
Entry is free
Register at operations@sandyford.ie
Later in the evening from 6pm to 7pm in HUB 17 "The Menopause: symptoms, health impact and solutions" - presentation and Q&A with Caoimhe Hartley
Caoimhe Hartley: General Practitioner, Menopause Specialist & Trainer, Founder at Menopause Health, Advisory Board Member European Menopause & Andropause Society
Free to attend. Register at operations@sandyford.ie