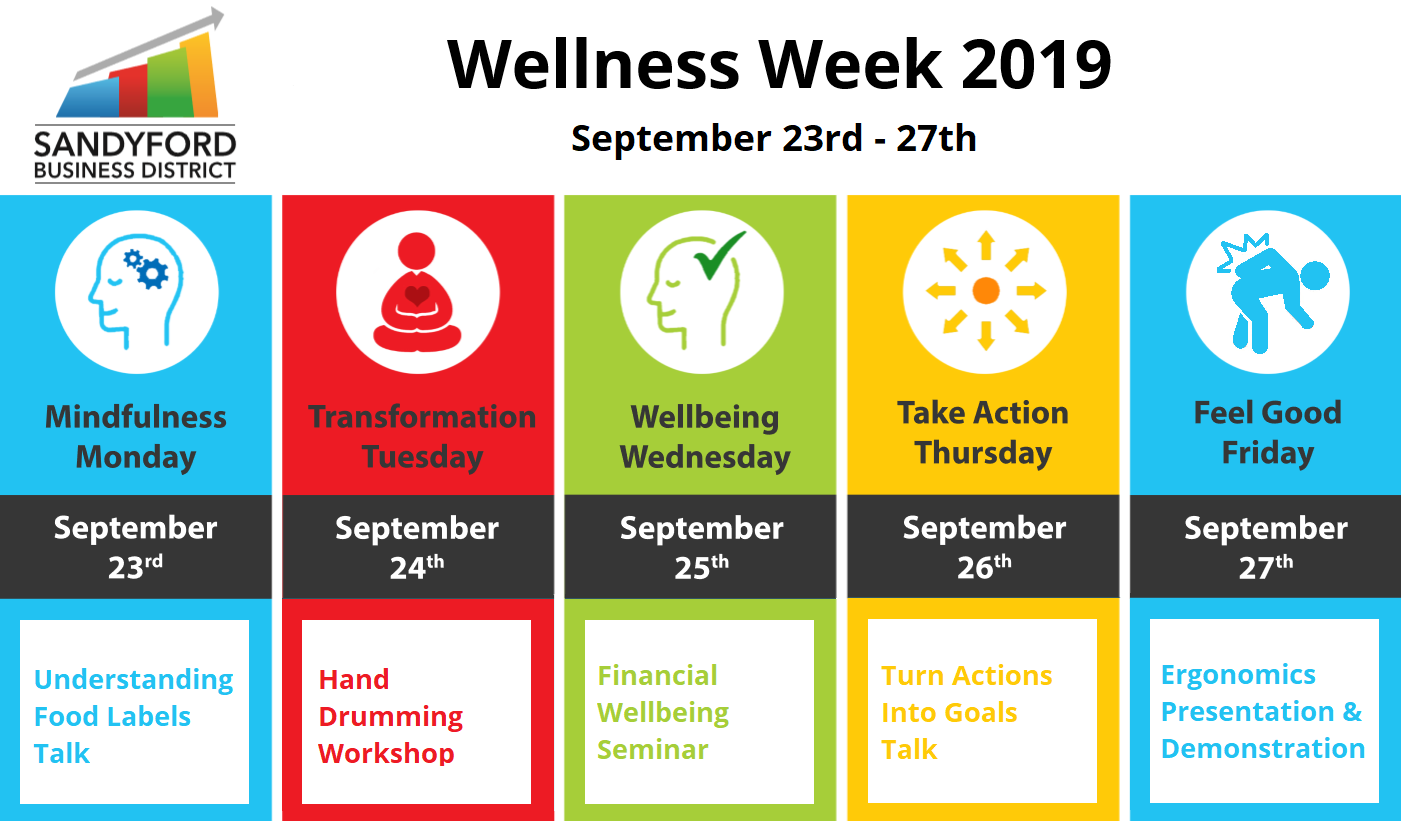 Wellness Week 2019
When: Monday, September 23, 2019
---
Series of events to promote health & wellness, including the Spirit Sandyford 5k Run.
:
Understanding Food Labels Talk
It can be difficult to understand the difference between truly healthy options and marketing, to know which foods to buy and which to leave on the shelf. This talk covers the three things to be mindful of when looking at food labels.
:
Hand Drumming Workshop
Transform and energise your life through the power of belief and rhythm. Reignite your "zest" for life and find your way back to a life that is full of excitement, motivation and self-belief!
:
Financial Wellbeing Seminar
All employees suffer from stress. 70% of that stress is financial. 1 in 2 adults with debt have a mental health issue. This workshop aims to simplify and demystify the financial issues all employees face.
:
1) Turning Goals into Action Talk
This talk will cover setting goals that inspire and empower you. It will explore the blockers to achieving goals and how to overcome them. Learn to take steps now and turn your goals into actions.
2) Spirit Sandyford 5K Run
This event organised by Dundrum South Dublin Athletic Club, will cater for walkers, joggers, fun runners and athletes.
:
Ergonomics Presentation and Demonstration
Managing ergonomic risk in the workplace can improve your musculoskeletal health. This demonstration will give direction on various ergonomic tools and practices and their benefits.
More details and how to book each event to follow at a later date.
Upcoming Events