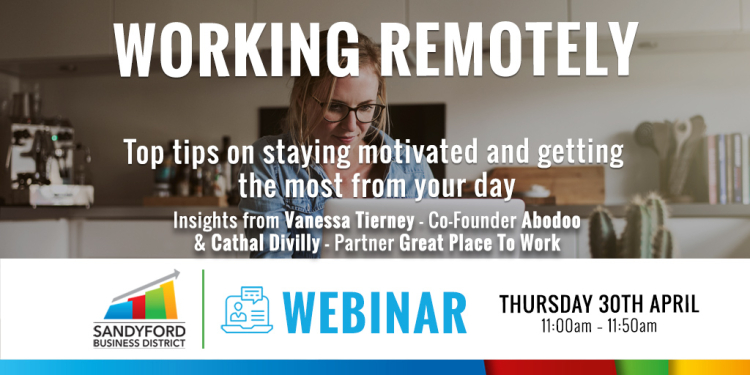 Working Remotely Webinar - top tips on staying motivated and getting the most out of your day
When: Thursday, April 30, 2020
---
Sandyford Business District invites you to an interactive Webinar on Thursday, April 30th at 11:00am – 11:50am
'Working Remotely - Top Tips On Staying Motivated and Getting The Most From Your Day'
Vanessa Tierney, Co-Founder of Abodoo, and Cathal Divilly, Partner at Great Place to Work will give advice and share their top tips on how to stay motivated through the lock down and how to get the most from your day.
Vanessa Tierney is one of the top 100 female entrepreneurs in Ireland. Vanessa spent 15 years working with Fortune 1000 and high growth firms before going on to Co-Found Abodoo, an Al-powered smart working platform where talent meets opportunity.
At Sandyford Business District, we recognise that individuals need to develop a road map for the current crisis and we understand that many are facing unprecedented challenges.
This webinar offers an opportunity and an information point to address your key questions and explore the issues that you may face in this current climate.