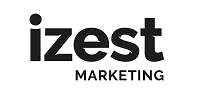 iZest Marketing Group
Categories: Business Supplies & Services Marketing incl. Digital & Media
+353 (0) 1 685 4610
hi@izestmarketing.com
iZest Marketing Group is made up of iZest Marketing, iZest Digital, Midnight Design and iZest Influence. We believe that brands need a clear brand strategy to support their growth. As part of our strategy process, we immerse ourselves in your brand DNA to help create a clear vision for the future.
At iZest Digital, we offer a range of digital marketing solutions including Social Media strategy, Social Media content planning and execution, website design and development and digital advertising services.
At iZest Influence, we work with high profile individuals to manage their profile and reputation online. Our services include, SEO management, Social Media profile management, and identifying commercial opportunities online.
At Midnight, we are dedicated to the craft of branding. We are passionate about creating amazing brand logos and design that connect with customers.
Unit 2, The Forum, Ballymoss Road, Sandyford Business Park, Dublin 18
Eircode: D18 K7R6